Last Delgaditas to La Dorada: El Magdalena redux
---
Map
Statistics for today
| | | |
| --- | --- | --- |
| Distance | 110.40 kms | 68.35 miles |
| Climbed | 701 meters | 2,300 feet |
| Ride time (hours) | 5.41 | - |
| Avg speed | 20.4 kph | - |
| Avg climb | 4% | - |
| Max grade | 11% | - |
Statistics for trip to date
| | | |
| --- | --- | --- |
| Distance | 15,142.05 kms | 9,408.80 miles |
| Climbed | 185,922 meters | 609,980 feet |
| Ride time (hours) | 1,192.30 | - |
On this page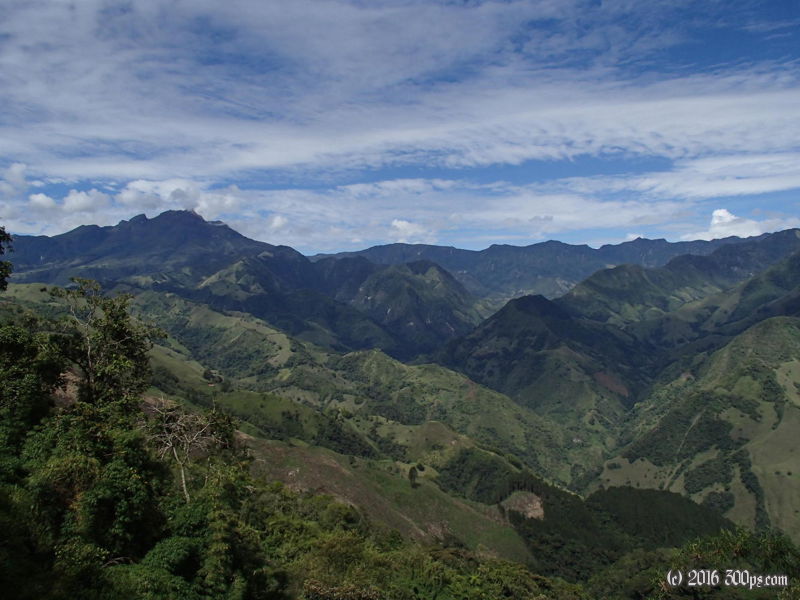 Wednesday, October 2nd, 2013
I was back at the gas station in the morning for an excellent breakfast and some more map talk with the owner. It was sunny so I got a good look at the amazing views they had been telling me about last night. Lots of downhill in the morning, I dropped about 2,200 meters of elevation all told. Unfortunately it wasn't a straight drop, there were some stiff climbs thrown in that had me sweating up a storm in the heat. By the time I reached Honda it was 40 degrees. I stopped for a mango milkshake to boost my morale.
Phil and I road this section a couple of months ago so from Honda to Puerto Triunfo it will be Magdalena river ride redux. The ride isn't very exciting to begin with so I just banged it out with minimal stops. Tomorrow will be more of the same. When I hit La Dorada I called it quits and got an hospedaje that has a fan in the room.
This side of the mountains has a very distinct feel from the other. Aside from the heat and more obvious poverty, the cities have a chaotic spontaneity that is more reminiscent of Peru. As I was walking around the center of town a lightening bolt struck nearby, followed by ear-splitting thunder and loss of power. When the power came back on 10 minutes later everyone let out a cheer.