La Paz to La Paz: To the casa de los ciclistas
---
Statistics for today
| | | |
| --- | --- | --- |
| Distance | 18.64 kms | 11.81 miles |
| Climbed | 145 meters | 476 feet |
| Ride time (hours) | 1.50 | - |
| Avg speed | 12.4 kph | - |
| Avg climb | 4% | - |
| Max grade | 12% | - |
Statistics for trip to date
| | | |
| --- | --- | --- |
| Distance | 9,248.80 kms | 5,747.06 miles |
| Climbed | 89,583 meters | 293,907 feet |
| Ride time (hours) | 708.36 | - |
On this page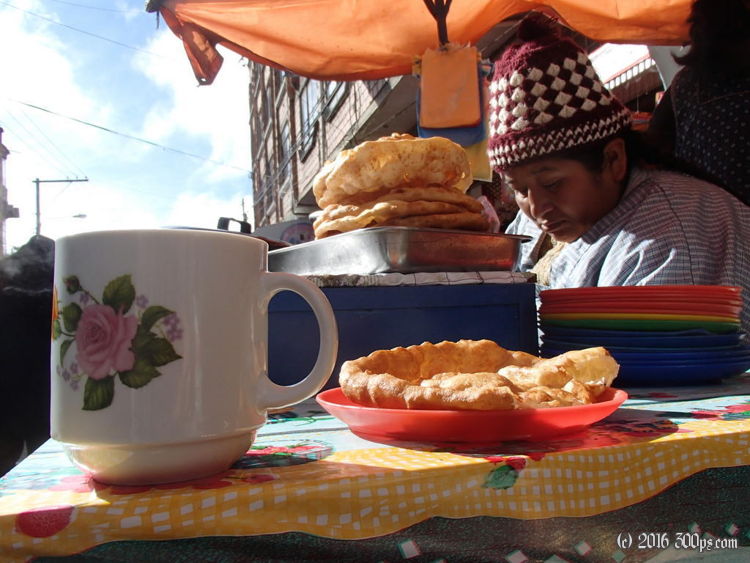 Sunday, April 7th, 2013
I went back to La Jungla for breakfast: fried dough with a hot and spicy fruit drink that was excellent. Out of the hotel and into the chaos of the streets of La Paz for a short ride down into the valley. I rang the bell at the casa de los ciclistats but no one answered so I kicked around the city park for a while, had lunch, and hid from the rain under a bus stop. Around 1pm I rang the bell again at the house and a French woman, Aurélie, answered.
I spent the afternoon swapping stories and comparing routes with Aurélie until Cristian, the owner of the house, came home. We talked cycling and bicyclers for a while, then I went shopping in a bona-fide supermarket.
I spent the evening speaking French with Aurélie and a friend of hers from Montpelier. Nice to have some extended human contact...