La Dorada to somewhere on Ruta 45: Just like Texas
---
Map
Statistics for today
| | | |
| --- | --- | --- |
| Distance | 117.01 kms | 72.70 miles |
| Climbed | 426 meters | 1,398 feet |
| Ride time (hours) | 6.46 | - |
| Avg speed | 18.1 kph | - |
| Avg climb | 2% | - |
| Max grade | 8% | - |
Statistics for trip to date
| | | |
| --- | --- | --- |
| Distance | 15,259.06 kms | 9,481.50 miles |
| Climbed | 186,348 meters | 611,378 feet |
| Ride time (hours) | 1,198.76 | - |
On this page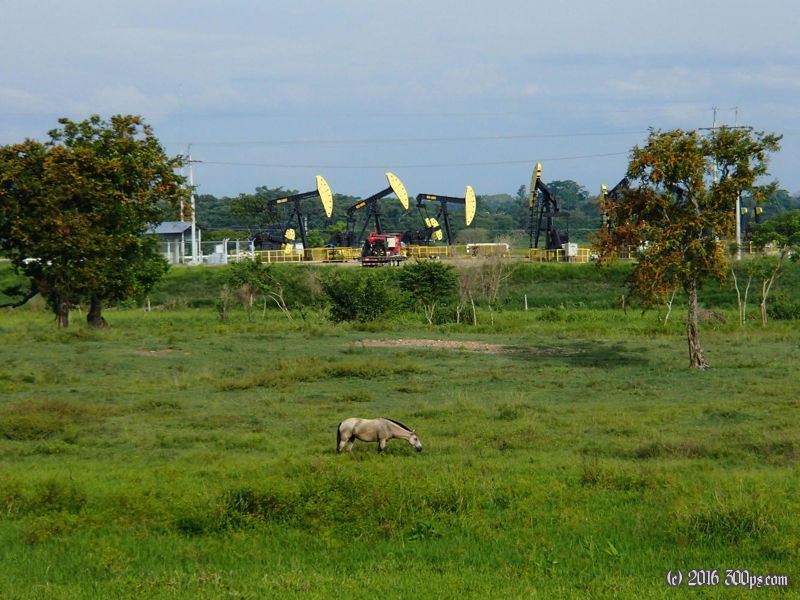 Thursday, October 3rd, 2013
I had the usual 4 conversations with random people while getting out of La Dorada in the morning. One guy who stopped by while I was eating breakfast at a café had a great story about smuggling "coffee" into Panama on a boat they took from Cartagena. Apparently the police caught them in the San Blas islands but they got off with a big bribe. Not sure if it was true but he sure could spin a dramatic tale.
Today's ride might as well have been through Texas: hot, flat, oil derricks, barbed wire fences, cattle ranches, and the smell of methane in the air. In the late afternoon I came across the scene of a nasty accident: a bus hit an old truck carrying tires head-on. Unbelievably there were no deaths and only minor injuries. The traffic backed up for miles on both sides, fortunately I was able to slither through on the bicycle.
I wanted to camp but every inch of the land along this road has barbed-wire fences. I came to a small town late in the afternoon, saw a few ratty hospedajes, and kept going in the hope of something better. I ended up at a hotel with a pool and internet; I went for it after the girl came down quite a bit on the price. I've been spoiling myself lately with the hotel situation, I just haven't been up for the stealth-camping because it is hard work in these populated and fenced in places.