Juliaca to Ayaviri: Highway, some québécois, and some Argentines
---
Statistics for today
| | | |
| --- | --- | --- |
| Distance | 96.77 kms | 60.27 miles |
| Climbed | 295 meters | 968 feet |
| Ride time (hours) | 6.31 | - |
| Avg speed | 15.3 kph | - |
| Avg climb | 2% | - |
| Max grade | 7% | - |
Statistics for trip to date
| | | |
| --- | --- | --- |
| Distance | 10,197.79 kms | 6,336.74 miles |
| Climbed | 105,581 meters | 346,394 feet |
| Ride time (hours) | 803.21 | - |
On this page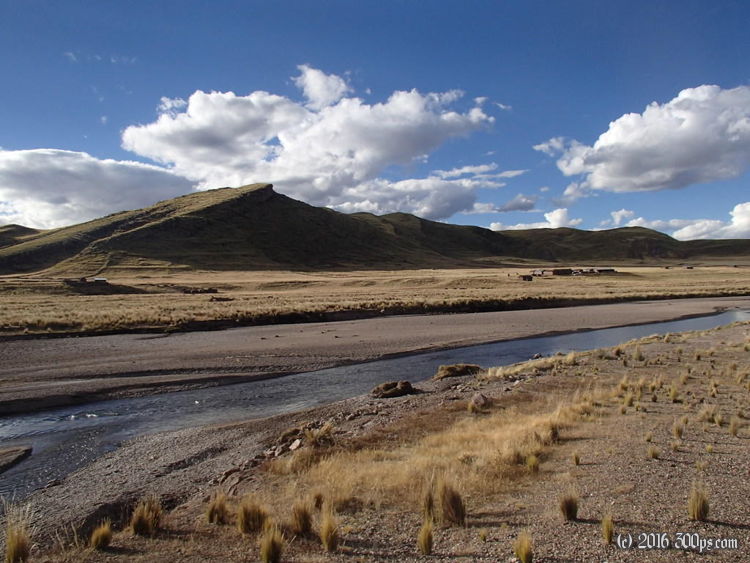 Wednesday, May 1st, 2013
Over a leisurely breakfast I considered my route from here. Definitely a stop in Cusco, then I was thinking about maybe another deep plunge into the jungle. I started googling some of the pueblos on the potential jungle route and discovered that the Peruvian army and the Sendero Luminoso have been shooting it out recently (with casualties) in that area. So much for the jungle idea...
I was on the road a little after 9, even with the probably lighter-than-usual traffic due to mayday getting out of Juliaca was a challenge. The city is pure chaos. 10 kilometers from the center I was finally out of the craziness and following a lightly travelled highway towards Cusco. After 20 kilometers I stopped to adjust the front derailleur cable, it was taking a double shift to get the chain onto the middle chain ring. The adjustment worked well and the cable seems to be hanging in there.
I ran into a couple québécois cycle tourers at about kilometer 50, father and son, the son had ridden down from North Carolina and the father has joined him for a week to ride Cusco to La Paz. We exchanged some tips then it was back on the road. They said there was another tourer about 100 kilometers ahead of me also going to Cusco. I doubt I´ll catch him with only two days to go.
The sun sets early in Peru... by 5:30 I rode into Ayaviri as it was getting dark. I grabbed a room at an hospedaje for 10 soles ($4) and chatted with 3 Argentine motorcyclists who were checking in at the same time. They invited me to go to dinner later on.