5 kms north of Hualfin to Pta. Balasto: Wind ripio, and, flats
---
Statistics for today
| | | |
| --- | --- | --- |
| Distance | 80.20 kms | 49.71 miles |
| Climbed | 522 meters | 1,713 feet |
| Ride time (hours) | 6.84 | - |
| Avg speed | 11.7 kph | - |
| Avg climb | 2% | - |
| Max grade | 8% | - |
Statistics for trip to date
| | | |
| --- | --- | --- |
| Distance | 5,900.06 kms | 3,666.09 miles |
| Climbed | 58,714 meters | 192,631 feet |
| Ride time (hours) | 441.80 | - |
On this page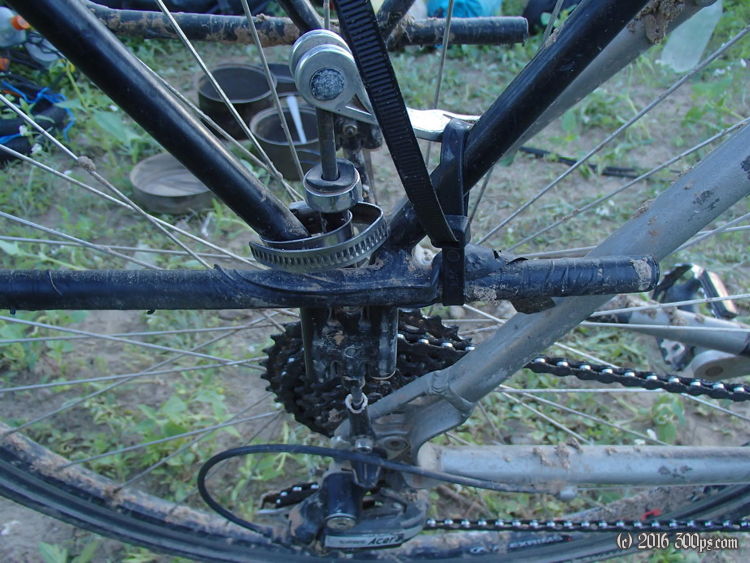 Saturday, February 16th, 2013
It was cool last night for a change which made for better sleeping. I'm back up near 2,000 meters altitude. The front tire was flat again this morning. I had had enough of that so I removed the Schwalbe Dureme and replaced it with the Maxxis I bought in Santiago, Chile. The Dureme has 12,000 kilometers on it so it doesn't owe me anything. I'll hold on to it until I can get a decent spare for the front.
The wind was howling this morning, from the north, the direction I'm heading. That plus the ripio made for a slow morning. I stopped in Los Nacimientos for a couple of food items and filled up on water at the police station. The town only has about 15 houses, two of them selling things out of rooms on the sides. Back to the ripio. When trucks went by I got buried in dust.
The pavement starts again about 16 kilometers after Los Nacimientos. From there it's a long (50 km) ride across a plain that has nothing except for an airport for a mine off to the east. It was slow going with the wind but not as slow as wind plus ripio. At the end of the plain is a descent down to a river, I stopped near here for lunch and was crushed to see the back tire had gone flat when I went to leave. That ends my patience with the rear tire as well, I put on my foldable Schwalbe Marathon Dureme and stowed the Marathon Plus just in case. The Marathon Plus has lasted 5,900 kilometers. I might get a few more out of it if I don't get rid of it before I'm out of the desert. Now I'm sporting brand new tires on both front and rear but I've only got the worn out ones for spares. Hopefully I can find something in Salta.
The first town I came to had a store that looked decent so I stopped and picked up a few things. The woman working there was nice and said they have a campground across the road if I wanted to stop for the day. Sounded like a good idea to me. I met the husband who showed me around, then said I could take a shower at their house. Yes! I badly needed one, it's been 4 days of desert camping since my last one. It felt great, and I got a shave in, also badly needed.
After the shower I talked with the store/campground owners for a while. They used to live in Once in Buenos Aires. I can't imagine a more drastic change of scenery than going from the hustling chaos of Once to the mountain pueblo of Balasto. They wanted to know about Patagonia and the passes I had ridden to/from Chile. Very nice people. I needed this bit of civilization and conversation after all that desert.