Ruta 1 km 87 to Ciudad Constitución: Theme for the day: Headwinds
---
Statistics for today
| | | |
| --- | --- | --- |
| Distance | 126.72 kms | 78.91 miles |
| Climbed | 444 meters | 1,457 feet |
| Ride time (hours) | 7.67 | - |
| Avg speed | 16.5 kph | - |
| Avg climb | 2% | - |
| Max grade | 6% | - |
Statistics for trip to date
| | | |
| --- | --- | --- |
| Distance | 22,473.18 kms | 13,964.07 miles |
| Climbed | 242,692 meters | 796,234 feet |
| Ride time (hours) | 1,611.41 | - |
On this page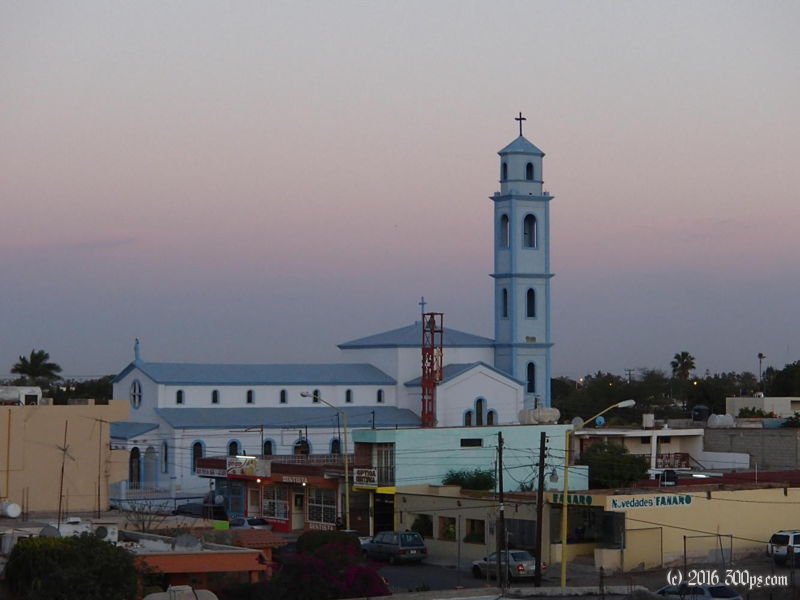 Friday, March 7th, 2014
Something was creeping around my tent last night, I suspect it was a coyote. I woke up around 3am with a deflated air mattress (the hazards of camping in the desert) and a serious chill. It gets cold around here at night. I was up and out about 7am, after packing and dragging the bike back to the road it was closer to 8.
Lots of wind today, none of it in my favor. The upside was a fairly flat road and some clouds that kept the worst of the sun off of me for most of the day. After 10k I ran into a pueblito where I bought a gallon of water and a coffee. 20k after that I came across another pueblito where I stopped for a nice breakfast of scrambled eggs and ham, refried beans, and a quesadilla. The waitress was cool and a couple of the guys working on asphalting the parking lot joined me to chat about my trip while I scarfed down my breakfast.
The rest of the day was all about fighting the wind. There is little or no shoulder the almost the whole way between La Paz and Ciudad Constitución. A couple of times it got dicey but for the most part everyone took care to give me room, slowing down for me when a passing situation developed. About 20k from Ciudad Constitución they are working on the highway which meant a good stretch on dirt and the accompanying dust. I was dead tired when I rolled into the city and grabbed a hotel. I went out for some tacos and that was all I could managed other than farting around on the computer.