Near Cutervo to 5k north of Cuyca: From cold rain to hot sun
---
Statistics for today
| | | |
| --- | --- | --- |
| Distance | 82.85 kms | 51.57 miles |
| Climbed | 870 meters | 2,854 feet |
| Ride time (hours) | 5.96 | - |
| Avg speed | 13.9 kph | - |
| Avg climb | 5% | - |
| Max grade | 20% | - |
Statistics for trip to date
| | | |
| --- | --- | --- |
| Distance | 11,297.34 kms | 7,019.63 miles |
| Climbed | 122,681 meters | 402,497 feet |
| Ride time (hours) | 894.50 | - |
On this page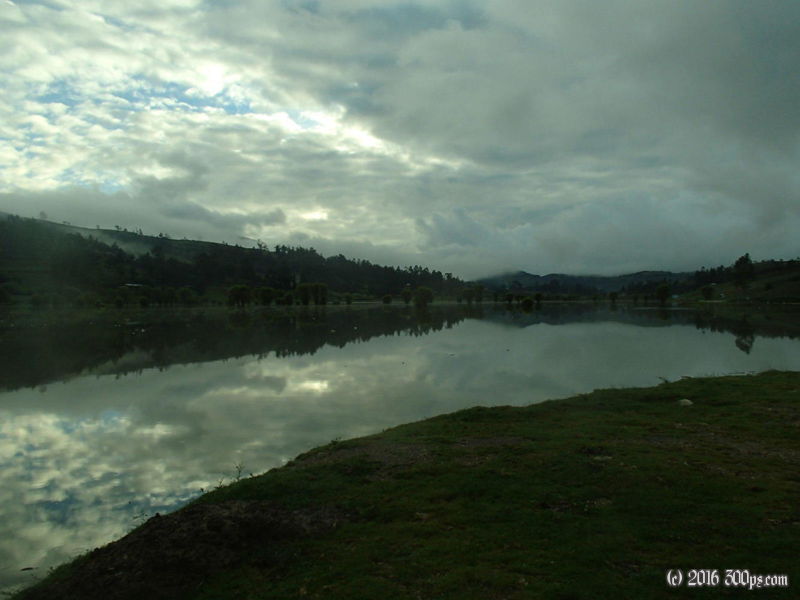 Saturday, June 1st, 2013
It was a short ride into Cutervo in the morning, mostly downhill, but still with a light rain. In town I stopped at the market for supplies and had a fried chicken breakfast. You get basically the same meal at any time of the day in Peru whether it be breakfast, lunch, or dinner. The only difference with breakfast is that sometimes they have coffee. After "breakfast" I went to the central square to hang out for a bit (I had gotten up well before dawn to get out of my campsite without being discovered). I spent some time chatting with a shoe-shine boy and a few of his customers. I finally got off my ass and headed out towards Cutervo - I knew it would be a big climb so I was in no rush.
It was a big climb but paved at least, with some stiff grades of up to 20% at the beginning. The rain had turned to mist at this point but it got colder and colder as I climbed. Then came a drop of 400 meters before climbing back up again. When I got to the top of the second climb it was pouring again and really cold with temps in the mid-single digits. The descent from this summit was huge: from 2,800 meters all the way down to 800. The descent brought a drastic change in climate: by the time I reached the bottom the temps were in the low 30's with a blazing sun. I stopped and had a dry-off session. Everything had become soaked with all the rain and mud of the past few days.
At a town called Chiple I picked up the main highway headed for Jaén. It was Saturday, no school, so the kids were all over me. I spent 15 minutes joking around with them. They are all Messi fans so they were impressed that I lived in Barcelona. It took some work to get away from them, then it was back on the road until a couple of cops stopped me to ask me about my trip. While we were talking my front tire went flat. I changed it right there while talking to them (Hans and Gilberto). Gilberto told me that he knows a guy in the area who uses goat hide as a tube protector. We had a good laugh about that... all I need to do now is kill, skin, and dry a goat...
I camped not far from where I met the cops because it was getting late. I found a nice spot hidden away between the river and the road. I had a huge dinner to make up for last night's cold one.
I will need to pick up some patches soon. Those crappy Thumbs Up patches that they sell down here start to separate from the tube over time, no matter how much glue I put down first.