Caranavi to Guanay: Dusty roller coaster
---
Map
Statistics for today
| | | |
| --- | --- | --- |
| Distance | 70.15 kms | 43.50 miles |
| Climbed | 956 meters | 3,136 feet |
| Ride time (hours) | 6.72 | - |
| Avg speed | 10.4 kph | - |
| Avg climb | 3% | - |
| Max grade | 14% | - |
Statistics for trip to date
| | | |
| --- | --- | --- |
| Distance | 9,493.05 kms | 5,898.67 miles |
| Climbed | 92,522 meters | 303,550 feet |
| Ride time (hours) | 730.41 | - |
On this page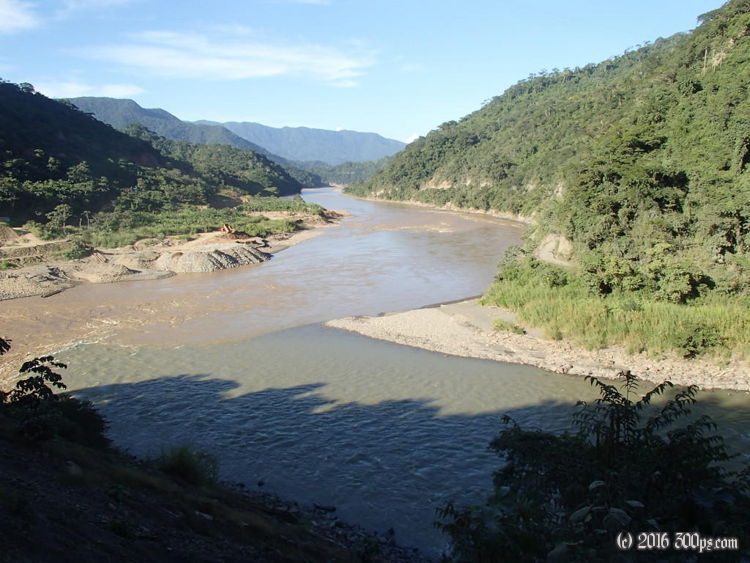 Thursday, April 18th, 2013
I went for breakfast out on the street: steak, eggs, and rice. It was hot early and stayed that way throughout the day. I loaded up my dusty gear and said goodbye to the chaos of Caranavi. The rest of the day consisted of a dusty roller coaster of ripio through a river canyon. I never strayed from a range of 500 to 700 meters altitude but still ended up climbing 956 meters on the day.
The dust was relentless. This area must be one big mudbath when it rains... I passed through a few small towns but there was minimal civilization today. On the way out of Caranavi I had seen a sign that said Guanay, 52 kilometers; when those 52 kilometers came and went I started asking myself if I had made a wrong turn somewhere. Just when I was starting to get worried a truck coming in the other direction stopped and the 3 guys in side asked me what I was up to. I told them and asked how far it was to Guanay, they said an hour by car or 3 by bike. 3 hours would have me riding in the dark for an hour so I hoped their calculations were wrong. As it turned out I got in to Guanay at 5:30 with 45 minutes of sunlight to spare. I got a room at an alojamiento, took a cold shower (hot showers in the hotels around here seem to be nonexistent...). The woman who checked me in tried to charge me 5 Bolivianos for the bicycle ... I was in no mood for bullshit so I just flat out told her I wasn´t going to pay. She scrunched up her nose but that was the end of it.
I went out to find dinner and was treated to an excellent wheat soup then chorizo (sausage) with rice, salad, and plantain. This place has an edge of the world feel to it, a ramshackle village full of wild-looking characters surrounded by jungle . Think Heart of Darkness or Voyage au bout de la nuit. I tried to get on the internet but the only place in town only had 3 computers with a line waiting to use them. Walking around town I got lots of stares, none of them friendly other than a few children who said hi.