Bariloche to Ruta 40 km 2086: A touch of summer
---
Statistics for today
| | | |
| --- | --- | --- |
| Distance | 52.00 kms | 32.31 miles |
| Climbed | 427 meters | 1,401 feet |
| Ride time (hours) | 3.88 | - |
| Avg speed | 13.4 kph | - |
| Avg climb | 2% | - |
| Max grade | 11% | - |
Statistics for trip to date
| | | |
| --- | --- | --- |
| Distance | 1,543.00 kms | 958.78 miles |
| Climbed | 16,696 meters | 54,777 feet |
| Ride time (hours) | 130.19 | - |
On this page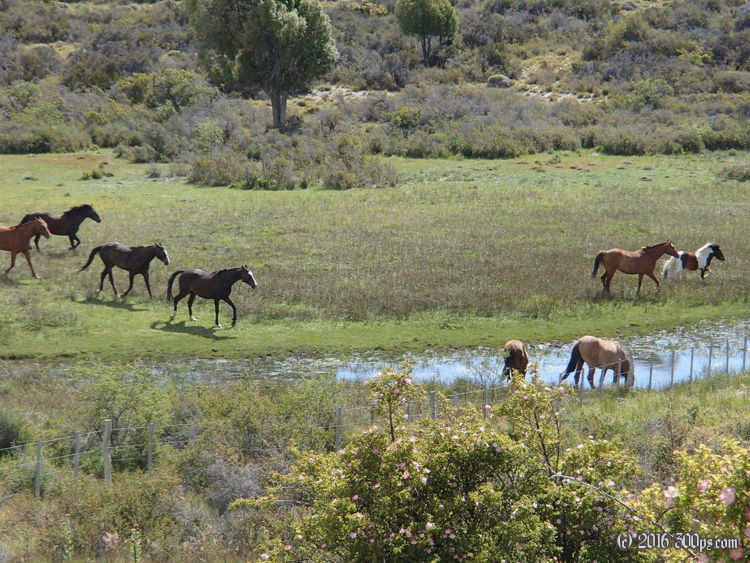 Saturday, December 29th, 2012
It's a windy day in Bariloche. I've got time to kill until my laundry is ready. Had breakfast at the hostel and walked around the city a bit. Back at the hostel I'm planning a route up through 7 lagos and into Chile. I hadn't thought too much about were to go from here other than north; the Argentine cyclists I ran into near Epuyen recommended the 7 lagos route.
There is a heavy police presence in Bariloche. Apparently there has been looting of supermarkets and stores here; when I ran into Feli near Parque los Alerces he had said that there had been looting in Esquel. It appears to have been an organized, country-wide, politically motivated disturbance. There were at at least 25 gendarmes outside the Carrefour in Bariloche. The president is blaming a union and a "fundamentalist" faction of Peronists. The union of course is blaming the government. There were 4 deaths in Rosario from the rioting.
I'm not sure exactly where Patagonia officially ends but I've decided to make a break in the blog here while I have some time to compile the statistics.
I said goodbye to Gastón, the owner of the hostel, very cool guy. I'll miss the two dogs, they were really funny. My laundry was ready at 3 on the dot. I packed up right at the lavanderia and headed out. I was wearing jeans since everything else was being washed and with no place to change I just continued on. I know it's foolish to ride in jeans but I once did it from Berlin all the way to Barcelona so I can handle half a day. The bike was really heavy with all the food I picked up but it is shifting like a dream after the rear derailleur cable replacement. I'm leaving Bariloche about 1,000 pesos lighter than when I got here but I've got some stuff to show for it: a new rear rack, new rear derailleur cable, two bike locks, a full load of food, clean laundry, a dinner out, a few cafés con leche, and a good night's sleep.
The road out of town is stressful. Lots of traffic in both directions and no shoulder. I had to bail out onto the gravel a bunch of times. I've decided that the most dangerous thing on the road in Argentina is not the trucks, nor the speeding drivers; it's the buses. They just don't give a shit. I can't count how many I've had them brush me off the road.
I had the wind mostly at my back until the turnoff for Villa Angostura, from then on it was directly in my face. I saw about 3 pairs of touring cyclists headed towards Bariloche and I ran into a pair of Brits that I had seen this morning at a bike shop. They've rented mountain bikes and are doing a 10 day tour. The guy asked to see my map and when he leaned over to look at it I almost passed out from all the cologne he was wearing. I could still smell him 10 kilometers later and it was a windy day.
I rode through a 20 kilometer or so stretch of pampa until a fabulous lake surrounded by mountains came into view. I had wanted to get in at least 50 kilometers today so when I hit the mark I started looking for a spot to camp. It appeared deceptively easy; each time I got off the road at a promising spot I found barbed wire fence hidden by the bushes and trees. At km 52 a park service campsite miraculously appeared. I figured it must be fate so I coughed up the 30 pesos. Way down at the end I found a fabulous spot with no one around so I made a fire and set up shop. The guy working the gate told me there was another cyclist here, I found him and chatted for a minute. He's from Quilmes, Buenos Aires and is on his way to Peru. I might run into him again as I'm headed that way myself.
Dinner was excellent, cooked over the fire. The sunset was amazing and the stars equally so when they came out. I've had some spectacular campsites in these national parks.