Huehuetenango, Guatemala to Laguna de Colón, Chiapas, Mexico: Into Mexico
---
Statistics for today
| | | |
| --- | --- | --- |
| Distance | 123.70 kms | 77.05 miles |
| Climbed | 615 meters | 2,018 feet |
| Ride time (hours) | 6.11 | - |
| Avg speed | 20.2 kph | - |
| Avg climb | 2% | - |
| Max grade | 8% | - |
Statistics for trip to date
| | | |
| --- | --- | --- |
| Distance | 19,055.66 kms | 11,840.85 miles |
| Climbed | 218,030 meters | 715,322 feet |
| Ride time (hours) | 1,416.87 | - |
On this page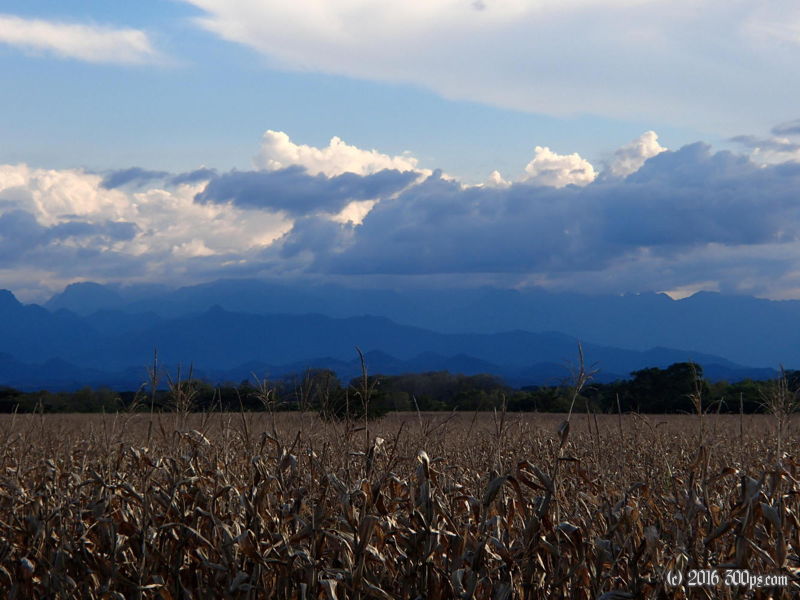 Thursday, November 21st, 2013
I met the guys again this morning for breakfast at the same restaurant before packing up my stuff and hitting the road. I stopped for a break after about 15 kilometers where I was joined by three guys who were working nearby: Carlos, Domingo, and Julio. They wanted to know all about the bicycle, when we got talking about food a long discussion ensued about how Americans carry their food when they go to the moon. I was laughing so hard my ribs were killing me, these guys were hilarious.
Today's ride was mostly downhill. From Huehuetenango the road follows a river canyon down into Mexico, dropping about 1200 meters over a hundred kilometers. The border town is called La Mesilla, like most of the border towns I've seen in Central America it is chaotic and full of junk for sale. No problems getting the stamp out of Guatemala, at the border a guard told me it was another 4 kilometers before the Mexican immigration post. When I got there it was just myself and another American (who insisted on speaking Spanish with me) in the office. He showed me his head scars from accident where he was hit by a car while on his bicycle. It looked like he was lucky to be alive.
I filled out the FMM card but they didn't charge me. The woman said they charge on the way out now. Good news for me because all the Mexican pesos I had were 400 that had been sitting in my wallet from the last time I was in Guadalajara back in 2010. 400 should easily get me to a city that has ATMs. I continued riding until I came to a sign that said camping at Lagos de Colón. I asked a couple of guys at the crossroads how far away it was, one said 7 kilometers and the other 10. It ended up being 11, all flat. The Laguna de Colón is a nice little park set around spring-fed, crystal clear ponds. They charged me 15 pesos (a little over a dollar) and said I could camp anywhere. I set up in one of the picnic huts on a path between two ponds and made dinner. Really nice place to camp. I fell asleep to the sound of gurgling water, frogs, and crickets.