Bambamarca to 20k west of Cochabamba: The friendliest town in Peru, lost in the mud, then rain
---
Statistics for today
| | | |
| --- | --- | --- |
| Distance | 70.87 kms | 44.12 miles |
| Climbed | 934 meters | 3,064 feet |
| Ride time (hours) | 6.88 | - |
| Avg speed | 10.2 kph | - |
| Avg climb | 3% | - |
| Max grade | 12% | - |
Statistics for trip to date
| | | |
| --- | --- | --- |
| Distance | 11,177.00 kms | 6,945.06 miles |
| Climbed | 120,945 meters | 396,801 feet |
| Ride time (hours) | 884.52 | - |
On this page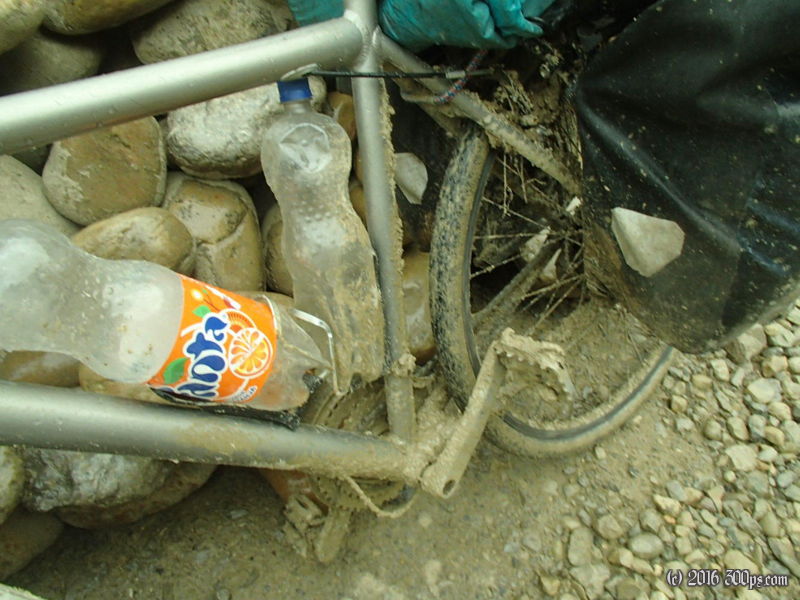 Thursday, May 30th, 2013
I was out of the hospedaje and onto the road early at 7am. The night watchman had to open the door for me... he asked what I was doing but didn´t believe me when I told him I had ridden there from Argentina. Today was a mudbath from the get-go. It had rained overnight turning the road into an obstacle course of puddles and mud. From Bambamarca it was a 650 meter climb with intermittent rain before descending into Chota. I was at the top by 10am so I thought I was going to have a big day... and then on the descent my front tire exploded with a bang. The tire had separated at the rim, allowing the tube to bulge out until it exploded. It took me an hour of futzing around before I finally just gave up and installed my spare tire, this tire was done. It was a Maxxis Overdrive that I had picked up in Santiago, Chile. I got about 5,000k out of it; which I suppose isn´t too bad for a 20 dollar tire in these kind of conditions.
When everything was squared away I descended into Chota where I was immediately greeted by Hector, a truck driver who wanted to know everything about my trip. He called his family out of the house and I met all of them as well. Next I headed to the Plaza de Armas looking for food. I stopped at a store next to the plaza where I met a guy who works for Edyficar (a commercial loan company that's all over Peru). We talked for about 10 minutes then a friend of his named Fabricio came into the store. Fabricio insisted on buying me lunch. He owns a cellphone store right off the plaza. He brought back lunch and we ate in the store and talked about life. Later trying to get out of town I was flagged down by about 5 other people who wanted to know what I was doing. This place was so friendly I couldn't get of town! When I finally extricated myself it was back to the mud.
About 5k outside of Chota there is a fork in the road. There was no one around to ask so I went right... mistake. It turned out to be a 20k detour in the mud. I knew things were going wrong when the track became rocky and the traffic disappeared. I really hate backtracking. I had no choice in this case though. When I finally did get back on the right road the mud went from bad to worse due to the construction on this section and the now heavy rain. I stopped around 5:30 under the eave of a house with a few motorcyclists also trying to stay dry. It was really pouring... when it was almost dark I continued up the road half a kilometer until I found a shelf below the road that was flat and not swamped. I set up camp there and made dinner under the tent awning as the rain pelted down.
I think I have identified the strangest side-effect yet of long distance touring: I cook so often with my stove that the smell of white gas makes me hungry.