5 kms south of Huara to 19 kms east of Cuya: All desert, no ocean
---
Map
Statistics for today
| | | |
| --- | --- | --- |
| Distance | 126.08 kms | 78.29 miles |
| Climbed | 615 meters | 2,018 feet |
| Ride time (hours) | 8.83 | - |
| Avg speed | 14.2 kph | - |
| Avg climb | 2% | - |
| Max grade | 8% | - |
Statistics for trip to date
| | | |
| --- | --- | --- |
| Distance | 7,600.29 kms | 4,722.42 miles |
| Climbed | 73,058 meters | 239,692 feet |
| Ride time (hours) | 569.29 | - |
On this page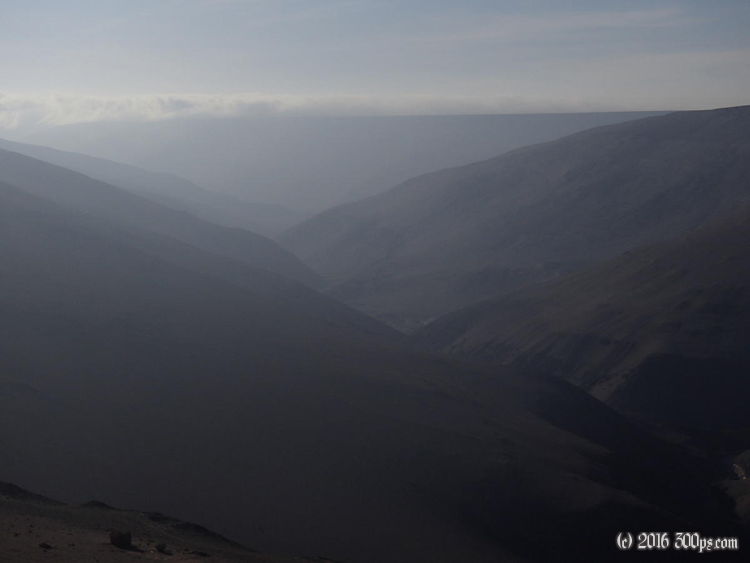 Monday, March 11th, 2013
Got out of the salitrera about 8:30, all morning was flat with headwinds. In the town of Huara I filled up the water bottles from a hose someone was using to water the grass in a park. There is a Carabinero checkpoint here but no one looked twice at me.
After the junction for the road to Pisagua (a couple of small restaurants here that sell water) the headwinds really got cranking. I went from 16 kph down to about 10. A ways after that came a few canyons where the road dives down to a river then climbs back up. Right before one of these a Pullman bus pulled up alongside me and handed me 4 of those snack-packs that they serve. Gracias!
At another canyon they were holding traffic for construction and I spent about 10 minutes chatting with the guy working there. He said: "mejor solo que mal acompañado"... órale. He shared a Chilean expression in a similar vein that I didn't quite get. I've lived in 3 different Spanish-speaking countries but I have a hard time understanding people in Chile sometimes, if they don't tone it down a bit for me I miss a lot.
I ran into a huge canyon at the end of the day called Cuesta Chiza. Coming from this direction it's a 17 kilometer decent into Patagonia-style headwinds. I was pedaling hard down 5% grades. I was running out of sunlight so at the bottom of the canyon I started casting around for someplace to camp. There were some spots with cover from the wind but not from the road. I kept going until I finally found something in a sand dune which wasn't great but I was just about out of sunlight so I took it.
I made way too much food for dinner. Will be eating leftovers in the morning.