Jala to Tepic: Ditto, just add flats
---
Statistics for today
| | | |
| --- | --- | --- |
| Distance | 71.82 kms | 44.74 miles |
| Climbed | 817 meters | 2,680 feet |
| Ride time (hours) | 5.17 | - |
| Avg speed | 13.8 kph | - |
| Avg climb | 3% | - |
| Max grade | 7% | - |
Statistics for trip to date
| | | |
| --- | --- | --- |
| Distance | 21,935.68 kms | 13,630.39 miles |
| Climbed | 240,169 meters | 787,956 feet |
| Ride time (hours) | 1,579.61 | - |
On this page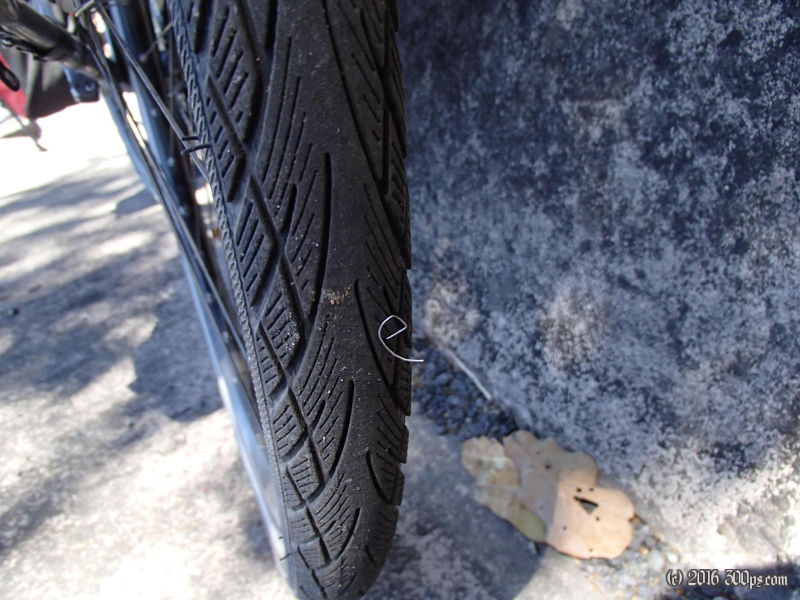 Saturday, March 1st, 2014
I drifted in and out of sleep from about 7 to 9. I had a vaguely guilty feeling that I should get out on the road early but I was having a recurring dream about New Orleans and didn't want to miss it. A screaming match between the woman running the hospedaje and her daughters finally got me going. Ahh the joys of cheap lodging.
Another hot one today, barely a cloud in the sky. Surprisingly enough I wasn't that hungry so I just picked up some bananas and some madeleines as a nod to Proust after my remembrance of things New Orleans. I struggled through the 400 meter climb that started off the day's riding. More of the same kind of highway riding as the last two days, the monotony only broken by a flat tire after about 50 kilometers. The usual suspect: a piece of wire from a truck tire. The shoulder of the highway is littered with the stuff. 5k later I came to a truck stop next to one of the casetas. I bought some water and an ice tea, consuming both on the spot while rapping with two truck drivers from Vera Cruz who were on their way to Cuiliacán. We joked about El Chapo not being there to welcome them this time (Culiacán was his stronghold).
Tepic materialized around 3pm (the state of Nayarit is an hour behind Jalisco, I only remembered that when I reached Tepic). I didn't realize this place was so big. I had never been here before but I somehow had the image of it as a smallish city, maybe I had it confused with Tepatitlán. It was at least 5k from the city limits to the center, during which I managed to pick up another flat, from – you guessed it - a pieced of tire-wire. I didn't have the heart to change it being so close to my destination so I just kept pumping up the tire until I reached the centro histórico. I dropped everything at a cheap hotel and found a restaurant that had WiFi, a really cute waitress, and bistek a la Mexicana. A winning combination.
Back at the hotel I patched the punctured tube plus the 3 punctured spares that I was carrying. Come to think of it the choice of the Schwalbe Citizen probably wasn't the brightest idea given that from here to the US is all desert, not to mention lots of highway with its attendant minefield of shredded truck tires. I seem to have misplaced my tire liners as well, I'll have to ride it bareback.