Tucson to Boston - Tucson to Organ Mountains:
---
Map
Statistics for today
| | | |
| --- | --- | --- |
| Distance | 309 kms | 192 miles |
Statistics for trip to date
| | | |
| --- | --- | --- |
| Distance | 309 kms | 192 miles |
On this page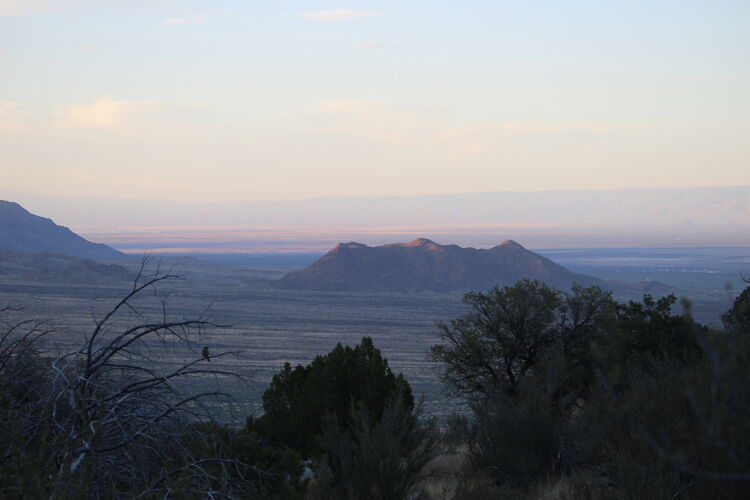 Thursday, May 31st, 2018
The day is finally here, I'm leaving Tucson. We are headed for another day of 100+ degrees - pretty much the norm for the last few weeks - so I figure no matter how I slice this day I'm going to be hot. I take my time and get some breakfast.
I'm out of the city heading east on I-10. I keep the bike humming along between 80-85mph, everything feels right on this motorcycle when it's running at just over 6,000 RPM. I-10 provides an endless stream of trucks to pass. An hour into the ride and I'm already getting annoyed at the habit Americans have of camping out in the fast lane instead of sticking to the right.
New Mexico doesn't take long to appear out of the blinding sun to the east. I'm looking forward to noon which will at least get it out of my eyes. I gas up in Lordsburg, stop at a rest area for water, have a chat with the maintenance guy who says he's spent his whole life here. The drought is on his mind. As bad as he's ever seen it, he says.
I want to set myself up to hike in White Sands National Monument tomorrow. I cycled through this area back in 2010 on my way across the country. I wanted to explore but the limited camping options in the area made for insurmountable distances on the bicycle. This time I figure I'll camp in the Organ Mountains where I can drive back and forth to the monument. I get off of I-10 in Las Cruces, pick up supplies for the next few days, then ride over the St Augustin Pass into the Organ Mountains National Recreation Area.
The host throws cold water on my plan to use this campground as a base. He says they lock the gate at 9pm; he would leave it open for me but today is his last day - he's had enough of the sand-blasting wind the comes barreling over the pass every day. He shows me how he's used heavy-duty cargo straps to keep his trailer from tipping over. Fair enough, I believe him about the wind. I figure catching the sunset in White Sands tomorrow will make me too late for curfew, I'll stay here tonight and look for other options tomorrow. It's a nice spot at any rate - I appear to be the only one here - I pick a site with a commanding view of the valley below and go about the business of camping.