2 kms north of Toconao to San Pedro de Atacama: From gravel pit to tourist pit
---
Map
Statistics for today
| | | |
| --- | --- | --- |
| Distance | 37.26 kms | 22.99 miles |
| Climbed | 113 meters | 371 feet |
| Ride time (hours) | 2.66 | - |
| Avg speed | 13.9 kph | - |
| Avg climb | 2% | - |
| Max grade | 6% | - |
Statistics for trip to date
| | | |
| --- | --- | --- |
| Distance | 6,779.32 kms | 4,212.27 miles |
| Climbed | 66,392 meters | 217,822 feet |
| Ride time (hours) | 511.40 | - |
On this page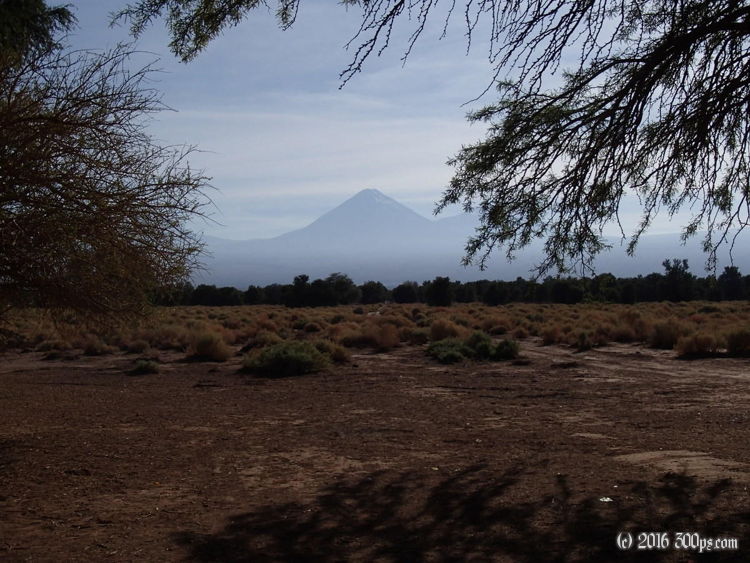 Friday, March 1st, 2013
I was up, packed, and on the road before dawn. I was out of food so breakfast would have to wait. I passed a guard house for a new observatory called "Alma", I was out of water so I turned around and went and asked them to fill a bottle. They have bunk-beds in there so I guess they stay there all night. On the wall was a poster with a flow-chart for alcohol control procedures; apparently they give the breathalyzer to anyone that drives up there. There was another sign in English saying that due to the altitude all visits have to be pre-arranged and approved.
I made it into San Pedro around 9:30. This is where the immigration and customs procedures are done. The immigration agents were impressed that I made it from Salta in 6 days. No problems, I got my passport stamped, got my customs declaration stamped at the next window, then handed it to the SAG people who thankfully didn't search my bike. As I was leaving a huge line of tourists from a bus formed at the immigration office, if I had arrived 2 minutes later it would have been a long wait.
As I rode into town I passed two young American women who looked like they were straight off the college campus. I'm definitely not in Catúa anymore... The town is full of Americans and Europeans and the tourist stuff to go with it: bike-rental shops, souvenir stands, tour organizers, hostels, etc... The good news with all this was that I got a great cup of coffee and breakfast at the main square. Afterwards I went looking for accommodations. The prices are as high as I've seen in Chile. I paid for a nice campground, in dollars to make it a little cheaper, and set up shop while talking to a French couple from Lyon. They have been travelling up through Chile from Patagonia by bus. There is a German couple here as well, we laughed at how most of my gear is either French or German while their gear is American (MSR). It reminded me of how I once by chance ran into a Harley-Davidson convention in Hamburg, Germany while I was riding my BMW. The German Harley riders got a big kick out of that.
I took a glorious shower and shaved. The shower was so nice I had to take a picture, the best one I've had on this trip. Funny what makes you grateful after a week in the mountains...
I had a dip in the pool, trued up the wheels again the best I could, went shopping for food, updated the blog, chores chores chores... then a good night's sleep.