Sagebrush, Saguaro, and Sweat: Introduction
---
Sagebrush, Saguaro, and Sweat
On this page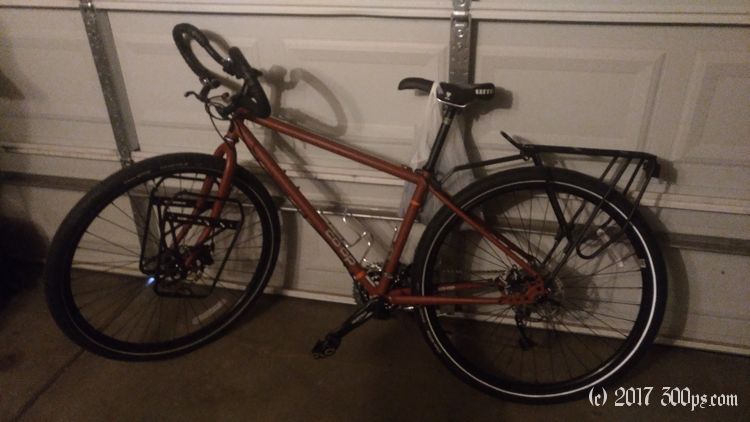 Tuesday, October 10th, 2017
I've landed in Phoenix, somewhat by chance, because the rear shock on my motorcycle was badly wounded and a BMW shop in this city was recommended to me. I was planning all along to make Arizona -- I was thinking Tucson -- my home base for the winter but the shock problem sped things up a bit; and made Phoenix the default choice instead of Tucson. Amazingly I was able to get the shock rebuilt in one day and for only $200 at a place recommended by the BMW mechanic. I replaced all the brake pads as well for good measure.
Now it's time to switch to bicycle travel. I've got limited time, just a week to pull things together, so after a cursory search of local bike shops I decided to just buy an off-the-rack touring bike from REI. It was on sale but even so at $900 it almost doubles the price of the previously most expensive bicycle I had purchased in my life. The good news is that it already has most of what I need in terms of braze-ons, handlebar, back rack, wide 700x48 tires, etc... The main thing I needed to purchase was a front rack which I found at Landis Cyclery (I decided to return there because they kindly gave me a pair of socks when I rode through Phoenix on my last cross-country trip in 2010). Other than that I just bought the various sundry items needed to travel: spare tubes, bottle cages, lube, etc...
The plan is to ride out of Phoenix to the northeast, staying at lowish altitudes to avoid the cold, then continue on through the Mojave to Nevada and California. I'm not sure how far I'll get or how long I'll be out for, just playing it by ear for the moment.