Phoenix to Lake Pleasant: Ouch, been a while
---
Sagebrush, Saguaro, and Sweat
Map
Statistics for today
| | | |
| --- | --- | --- |
| Distance | 50.20 kms | 31.07 miles |
| Climbed | 441 meters | 1,447 feet |
| Ride time (hours) | 3.87 | - |
| Avg speed | 13 kph | - |
Statistics for trip to date
| | | |
| --- | --- | --- |
| Distance | 50.20 kms | 31.07 miles |
| Climbed | 441 meters | 1,447 feet |
| Ride time (hours) | 3.87 | - |
On this page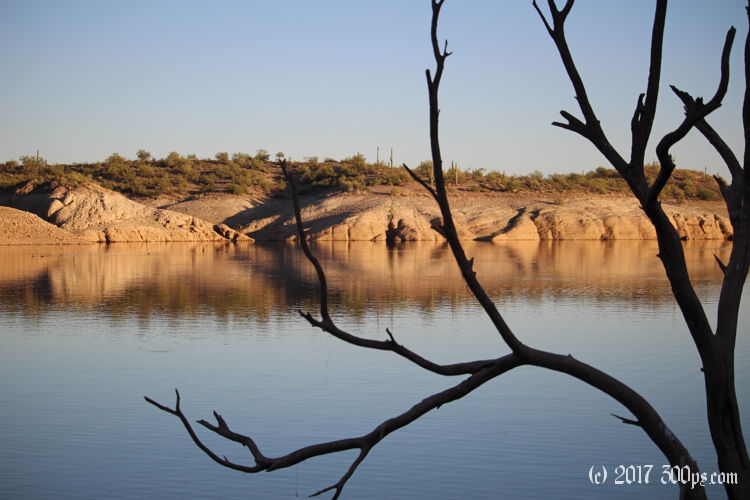 Sunday, October 15th, 2017
I have a late breakfast with my AirBnB host in Phoenix. She has prepared a bunch of things for me for the road: burritos, pancakes, cookies, homefries, and pasta. There's so much food I don't have room for it all, but I stuff what I can into my overloaded panniers. I've got a full load of water as well -- 7 liters -- because I want to see what it feels like on this new bike. End result is that I've got so much weight that the bike feels awfully wobbly...
The motorcycle is packed up and secured in my host's garage. When I told her I was going to rent a storage unit she offered her space. I glance wistfully at Greta as I roll out of the garage... I know I'm in for a lot more struggle on the bicycle than the motorcycle. I'm sure I'll miss being able to hop on and ride to the nearest Mexican restaurant on a whim.
I head north out of the city. My host took me up to Lake Pleasant last week and I liked it so I'm going that way to discover some of the back roads in that area. I should have done some rides to get back into shape, after only 10 miles I'm starting to feel a little shaky in the legs.
The hills start after about 20 miles. I'm struggling with this weight... but I've got low gearing. No rush, I'll just spin my way up in the lowest gear. Short mileage is in the cards today. I'll slowly ride my way back into shape.
The pavement ends once I get past the two boat launch areas in the state park. The grades are steep but the dirt isn't too loose; I get up them painfully but without spinning the back tire or having to get off and walk. These wide 700x48 tires are helpful for this scenario. I have to content with the myriad of off-road vehicles coming in the other direction: dune buggies, 4x4 trucks, ATVs. None of them slow down for me to mitigate the wave of dust they spew in their wake.
I'm planning on camping near a spot on the map where the road comes close to the lake before turning north. When I get there I see that this cove is dry, but there is a dirt track going down it where others have driven. I ride along it figuring I'll hit water sooner or later. There are wild burros hanging out chewing on the vegetation growing in the swampy cove bed, and further down I run into a heard of cows co-mingled with some burros. The lake is not attractive at the end of the cove, it looks like a swamp. I drag the bike up the rocky embankment. Some good camping spots up here with flattish ground and a view of the lake. I set up the tent and go for a swim/bath. I figure I had best take advantage of these bathing opportunities as they will probably be in short supply in the desert. For dinner I eat the burritos my host packed for me. Nice to not have to cook.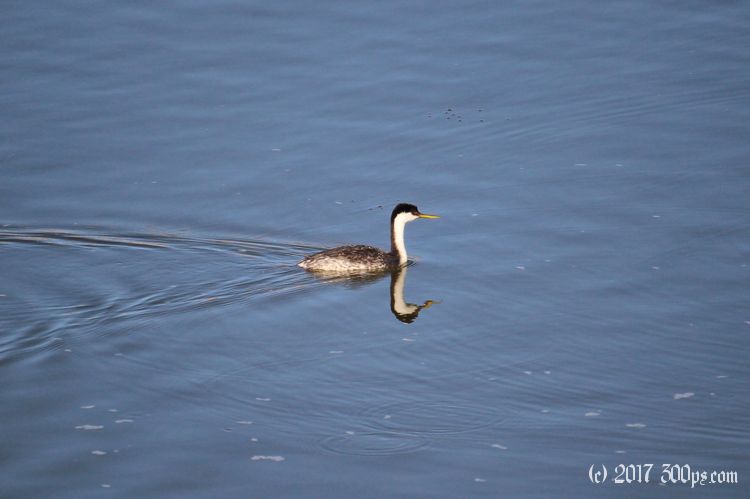 In the distance in all directions I can hear music being blared by other campers at the boat launches, ATVs running along the trails, burros braying, and the faint sound of sporadic gunfire. Ahh camping near a southwestern city... it has its charms. A dog barks, the echo reverberates around the lake, a coyote replies, then his pack joins in. Pretty cool.