Boston to Douglas State Forest: On the road (again)
---
Nowhere to Go but Everywhere
Map
Statistics for today
| | | |
| --- | --- | --- |
| Distance | 134.23 kms | 83.26 miles |
| Ride time (hours) | 7.43 | - |
Statistics for trip to date
| | | |
| --- | --- | --- |
| Distance | 134.23 kms | 83.26 miles |
| Ride time (hours) | 7.43 | - |
On this page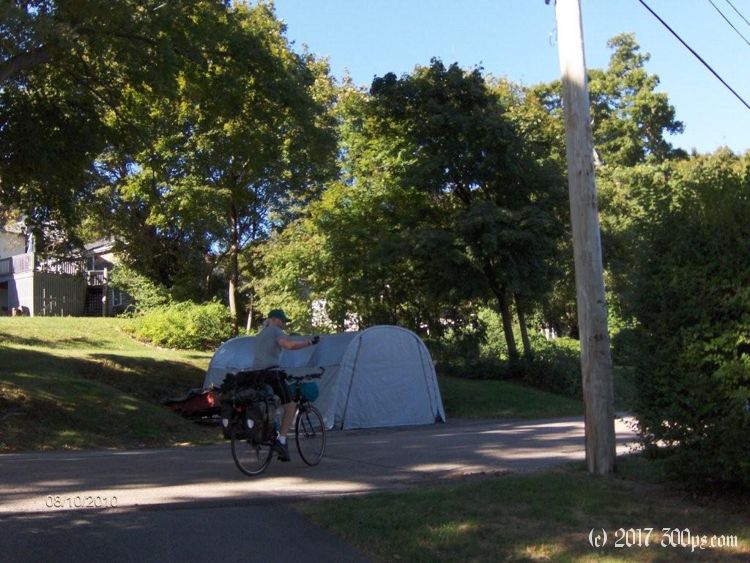 Wednesday, September 1st, 2010
Recently arrived from Europe where I rode a bicycle from Berlin to Barcelona, I'm sitting here in Boston on the eastern edge of North America. I grew up in this place, never really thinking of it as the edge anything, but my perspective has changed. The habit of looking at maps everyday I picked up from my last trip is still with me. A map of the US looks incredibly inviting; when an American thinks of a big road trip, what is the first thing that comes to mind? Go west. The trip that so many others have made. From the pioneers to Kerouac to the burnout kids from high school who followed the Grateful Dead. Thinking of Kerouac -- I'm not far from where he grew up -- reminds me of one of his famous quotes: "...nowhere to go but everywhere." It seems to sum up my current situation. So I'm going nowhere particular but everywhere...but first I need a bike (I left my MIFA Trekkingrad in France).
I make the rounds of the bike shops. I settle on a KHS hybrid (700c wheels) that the shop owner wants to get rid of because it's the last one he has in stock. He is amenable to a bit of negotiating, throwing in a back rack, fenders, and bar ends with the $450 price tag. I order a cheap little front "rack", more like a little bracket that's just long enough to hold my sleeping bag. I brought most of my camping gear back from France so I'm pretty much set in that department except for a new "Pocket-Rocket" stove and gas that I find at REI. I also spring for a new titanium pot set. It's expensive but allegedly quite durable, at least according to the sales assistant, and I'm sure I'll be testing that theory on this trip. So I'm ready to go, the setup is two Ortlieb Back Rollers (stuffed to the gills), the Ortlieb rack bag, and just the sleeping bag strapped on the front with no handlebar storage.
I set off on a bright, sunny, warm day; September 1st but it still feels like summer is in full swing. I've got the butterflies...will I make it? Can I deal with the problems that are sure to come? This journey feels much more ambitious than Europe. Riding through downtown Boston doesn't help with the introspective mood. It makes me think of my career, my ex-girlfriend, my apartment on Beacon Hill...the safe and lucrative life that I left behind 5 years ago for chance at something else. I've never stopped second-guessing myself for that. I don't know if it was the "right" choice, but I do know it was an inevitable decision.
Nothing quite cures a case of self-doubt and butterflies in the stomach better than sweating out 80-something miles on an overloaded bicycle. By Blue Hills I've already forgotten my worries. Chatting with a few people at a convenience store helps. They ask me where I'm going and wish me luck on my venture.
My plan for the day is to get to Douglas State Forest so I can camp. Eastern Massachusetts -- and the east coast in general -- is so heavily populated that stealth camping can be a challenge. I figure that a state forest will afford a secluded place with a low likelihood of being discovered. I'm not wrong. Around 6pm I'm safely tucked back into the woods. I make a big dinner of beans, pasta, vegetables, and cheese (that will be a theme for this trip). A very enjoyable first day.