Taiwan bicycle touring summary:
---
On this page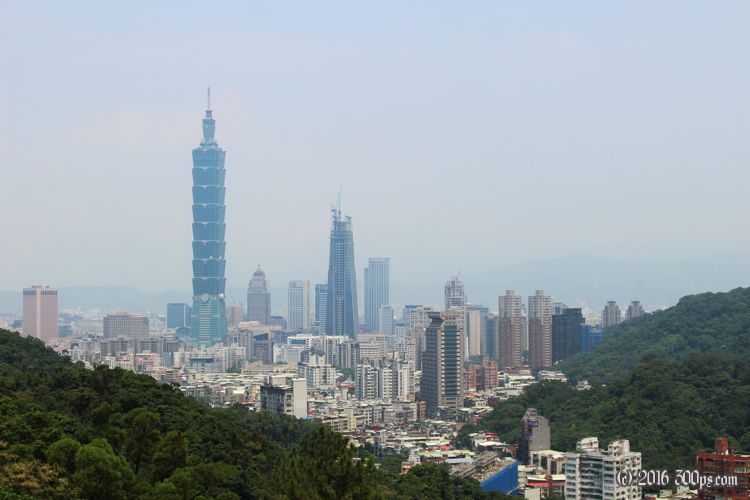 Taiwan has a lot to offer the bicycle traveler: scenic coastlines, tall mountains, cheap food, friendly and courteous people, warm (though wet and humid) weather, and reasonably respectful drivers. There is a substantial cycling community which I'm told is rapidly expanding. I met a fair number of Taiwanese who had traveled by bike or were planning to; going around the island on a bicycle is a thing to do. Some of the downsides are: relatively expensive lodging, prolonged rainy periods, and the west coast which is basically just one huge city from the top of the island to the bottom.
Bicycle
I was in Taiwan for 4 months so it was worth it for me to buy a bicycle. I found one at a Giant store for $250 US, your standard hybrid with 700c wheels, 7-speed cassette, V-brakes, and 36-spoke double-walled rims. An excellent deal for the quality, the model is called the "Escape". I added a back rack, bottle cages, and bar-ends (the bar-ends were invaluable, be prepared to climb in Taiwan!). It held up very nicely over 3,500 kilometers. The Giant stores were helpful making adjustments for free whenever I had a minor problem, some more than others. In Taipei I recommend the store at No. 520, Section 4, Ren'ai Rd near City Hall rather than the Nanjing branch at No. 278, Section 3, Nanjing E Rd.
Lodging
Hotels are expensive relative to everything else in Taiwan. When traveling with a friend it was more reasonable split two ways. Traveling alone I started using Agoda to book bed and breakfasts, or "homestays" as they call them here, the night before or the morning of. It was more important to book on the weekends as places filled up quickly and the prices increased accordingly. The B&B's prices ranged from 20 to 40 US dollars per night with breakfast included. I found them more interesting in terms of having contact with local people. Many did not speak any English, so a minimum of Chinese is very helpful for going this route. I wasn't carrying camping equipment so I'm not sure exactly how that would work out, but it appears that stealth camping would be tough given the geography of the island - very steep terrain with just about everything that's flat already occupied. I didn't see anyone doing it. I came across a few (empty) campgrounds that looked nice but didn't check the prices.
Weather
Be prepared for rain - lot's of it. The typhoon season was quite brutal this year, September and October brought 4 of them carrying multiple days of heavy downpours, one even lasted for about a week. In summer it was brutally hot, I see that at as an advantage because I love the heat, but my friends found it almost unbearable. When I toured the island in November it was hot but not outrageously so. At the higher elevations it gets cool. I was able to get by with just a fleece, a Gortex jacket, and my rain pants for staying warm descending the mountains.
People/safety
I found the Taiwanese to be exceptionally polite and friendly, though shy. I never had any problems to speak of. Everyone was almost always courteous and patient despite my minimal Chinese. As far as safety goes, I rode all through and around Taipei and I never came across a neighborhood that felt dangerous. Women walk or do exercise alone at night in the parks without any apparent worry. People leave their belongings on their scooters or on the tables in restaurants while they go to the bathroom. It seems as though crime doesn't even exist here - surely it does to some extent but I don't have a single anecdote of theft to tell. Cyclists often leave their bicycles unlocked, or only lock the bicycle to itself through one of the wheels. Being used to traveling in dodgier places, I continued to chain mine to a pole or some other immovable object.
Bicycles on trains and buses
You can "roll on" a bike on the "local" trains, I did it a few times between Yilan and Taipei (a fairly long journey, not exactly "local"). Many people take the train between Yilan and Hualien because the road is perceived as dangerous, however that stretch of road has some amazing scenery. I did find the tunnels to be somewhat dodgy but the risk was worth the reward. On the faster trains they want the bicycle to be bagged or boxed. Giant stores sell bicycle bags and will wrap the bike if you ask. I've heard you can take a bike on longer-distance buses but the two people I know who tried to do it were denied. I guess it depends on the driver and how much luggage they already have underneath. At any rate not something I would count on doing last-minute.
Highlights
Northern Taiwan

Yehliu Geopark
Yehliu Geopark is a peninsula on the northern coast of Taiwan that has hoodoos created by erosion, a kind of Bryce Canyon by the sea.

Yangmingshan National Park
Just north of Taipei, Yangmingshan National Park is series of mountains with fumaroles, high valleys, and great views of Taipei to the south and the coast in every other direction. Steep grades on most of the roads.

Northeast coast (Keelung to Yilan)
A coastal road along cliffs in the beginning, then bike paths along pretty beaches, a tunnel for cyclists and pedestrians over 2 kilometers long, and a picturesque look at Guishan Island.

Taipei night ride (Keelung River)
Night ride along the Keelung River bike path to see the illuminated bridges and skylines of Taipei.
Central Taiwan

Qingshui Cliffs
From Yilan to Hualien on the east coast, a long series of mountains and coves of turquoise water. This ride can be dodgy at times with traffic and many tunnels but the views are well worth it.

Jade Mountain (Yu-shan)
A tough climb no matter which way you come, the park is worth it if only for the monkeys that line the roads.

Hehuan Mountain/Taroko National Park
The most impressive area I saw in Taiwan. Amazing sunsets, a South-American style climb up to 3,275 meters, then a 100k descent through a one-of-a-kind river gorge.
Southern Taiwan

Kenting
Taiwan's answer to Puerto Vallarta: pretty sunsets, beach party atmosphere, nice scenery on the southern tip of the island.

Fo Guang Shan Monastery
A massive Buddhist monastery and "memorial complex", it has that religious tourist trap feel to it a bit like Lourdes in France, yet it's impressive all the same (and less commercial than similar places in the West).