Somewhere on the Arco Norte to San Juan del Río: Pushing the limit
---
Statistics for today
| | | |
| --- | --- | --- |
| Distance | 143.39 kms | 88.86 miles |
| Climbed | 1,245 meters | 4,085 feet |
| Ride time (hours) | 7.90 | - |
| Avg speed | 18.1 kph | - |
| Avg climb | 3% | - |
| Max grade | 7% | - |
Statistics for trip to date
| | | |
| --- | --- | --- |
| Distance | 21,077.36 kms | 13,096.64 miles |
| Climbed | 233,780 meters | 766,995 feet |
| Ride time (hours) | 1,531.63 | - |
On this page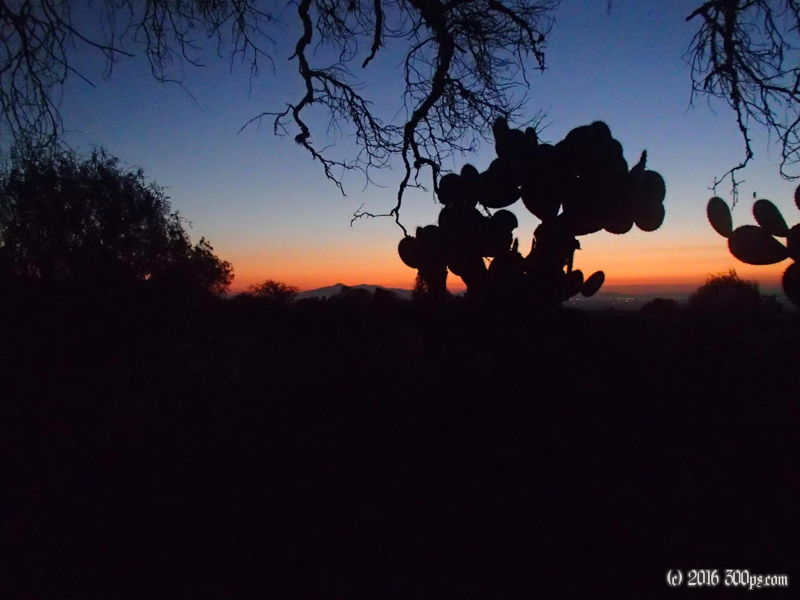 Thursday, December 19th, 2013
I was up early and on the road at 7 am. It wasn't really light until 7:30ish which felt pretty late for the sun to be up. It was chilly, about 3 or 4 degrees until the sun got high enough to cast some rays. At the first exit of the day a security guard flagged me down and said I couldn't ride a bicycle on this highway. I explained to him that there were no signs prohibiting it, no one had stopped me at the tollbooth, and I had ridden on it all yesterday. He said ok and didn't push the issue. It made me not want to get off the highway to avoid having to get back on through a tollbooth. If I got unlucky with an overzealous security guard I would have to make a big detour.
I was out of water, had no food, and was waiting for a highway rest stop with services to appear. None did, even though there were plenty of signs for them at one point. It turned out to be under construction. When I started getting desperate the exits stopped coming rendering the decision to risk getting off or not a moot point. 75 kilometers later I rolled up dehydrated, starving, and cranky on a roadside place that had food and water. I paid for my lack of foresight with the water situation and my willingness to keep going in spite of having no clue what was ahead. Not too smart.
When I got off the Arco Norte onto the Queretaro highway (setting off the tollbooth alarm in the process, I just kept riding) I ran into a bunch of cyclist-pilgrims going from Mexico City to San Juan de los Lagos. We leapfrogged each other for the rest of the day until San Juan del Río. I arrived first and found a hotel, I went out for some drinks and when I got back all of the pilgrims' bicycles were in the lobby. The owner said they stay there every year. I chatted with the owner for a half hour, explaining where I had been on the trip, why I was doing it, etc... He tried to talk me into staying permanently in Mexico. He told the story of another American guest at the hotel who came for a short visit 5 years and never left. He married a Mexican girl from a village nearby, opened a second-hand clothing store, and bought a house. He also tried to talk me into getting a weapon to carry while I travel alone. I have been thinking about mace or pepper spray, I asked him where to get it and he gave me a few addresses. He said they sell it to anyone.
Later I picked up some patch glue at a hardware store then treated myself to a real restaurant meal. It was excellent. Back in bed by 9.