1 km north of Talacasto to San José de Jachal: Very much like the Mojave
---
Statistics for today
| | | |
| --- | --- | --- |
| Distance | 112.87 kms | 70.21 miles |
| Climbed | 400 meters | 1,312 feet |
| Ride time (hours) | 6.89 | - |
| Avg speed | 16.3 kph | - |
| Avg climb | 1% | - |
| Max grade | 6% | - |
Statistics for trip to date
| | | |
| --- | --- | --- |
| Distance | 4,124.76 kms | 2,563.16 miles |
| Climbed | 40,489 meters | 132,838 feet |
| Ride time (hours) | 310.32 | - |
On this page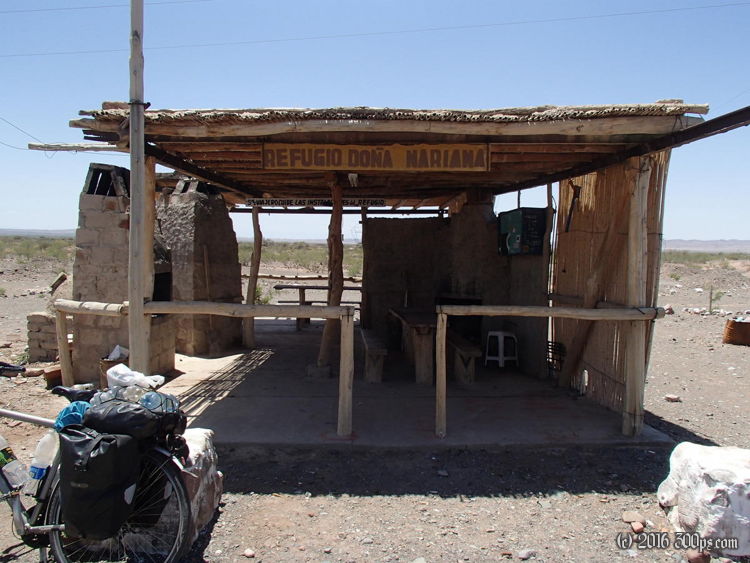 Saturday, January 26th, 2013
The temperature in the tent got me out of bed. There was nothing to block the sun to the east so it warmed up quickly. I had a slow day planned as I wanted to prep for the Agua Negra pass in San José de Jachal; and for once my day turned out as planned. Lots of drinking of water and sunscreen for this desert stretch. They were laying cable all along the side of the road so I never felt very alone.
Not much happened, someone stopped for directions and I was actually able to give them to them, a rarity... There were no services until San José, like expected, but there is a town 20 kilometers before where you could ask for water in a pinch. I just made it with the water I had, rolling into town with a half-liter. It was the bottle that the guys at the kiosko in Talacasto had filled for me from their tank; it definitely tasted like tank water so I was glad to get rid of it.
San José de Jachal was hopping. The "Tour of San Juan" is here. I had no idea it was going to be here and don't know anything about it but it appeared to be pretty serious: complete with chase motorcycles and lycra-clad speed racers. I ended up on the road they were on, everyone started cheering me on as if I were part of the race. I would have won if my bike had been forty kilos lighter!
I went to a YPF station and got on the internet to update the blog. I picked this city to stop in because I thought it would have a good supermarket due to its size: it doesn't. I managed to patch together what I needed by visiting 3 supermercados and a verduleria (vegetable stand). I headed out to the free municipal campground but it looked like bad news: lots of people getting ready to party, not surprising being a summer Saturday night. I had no idea what day it was before I looked at the computer. The guy I asked if the campground was free looked like he had broken a few kneecaps in his day. He was cool about it but I wouldn't want to run into him after he'd been hitting the Fernet.
I stopped at the tourist office and they pointed me to a pay campground, I went and it was way more laid back, for only 15 pesos a night (less than 2 Euros, I love converting prices with my new black-market exchange rate!)
I took a badly needed shower and shaved. I bought this liquid soap at Carrefour in Mendoza, it turned out to be some weird stuff. It doesn't lather up at all. As a result I hit a new milestone in bicycle touring living: I shaved with dish soap. Well... you gotta go with what you got...
Made a huge dinner, as usual, and started re-organizing things for my trip over the pass. I need to carry 3-4 days of food from here to be safe which will require some compression of my gear. There are some thunderstorms running around again, this time to the north, looks like they will miss.