Ruta 40 km 1991 to Bariloche: Fixing the bike
---
Statistics for today
| | | |
| --- | --- | --- |
| Distance | 53.00 kms | 32.93 miles |
| Climbed | 586 meters | 1,923 feet |
| Ride time (hours) | 3.84 | - |
| Avg speed | 13.8 kph | - |
| Avg climb | 3% | - |
| Max grade | 18% | - |
Statistics for trip to date
| | | |
| --- | --- | --- |
| Distance | 1,491.00 kms | 926.46 miles |
| Climbed | 16,269 meters | 53,376 feet |
| Ride time (hours) | 126.32 | - |
On this page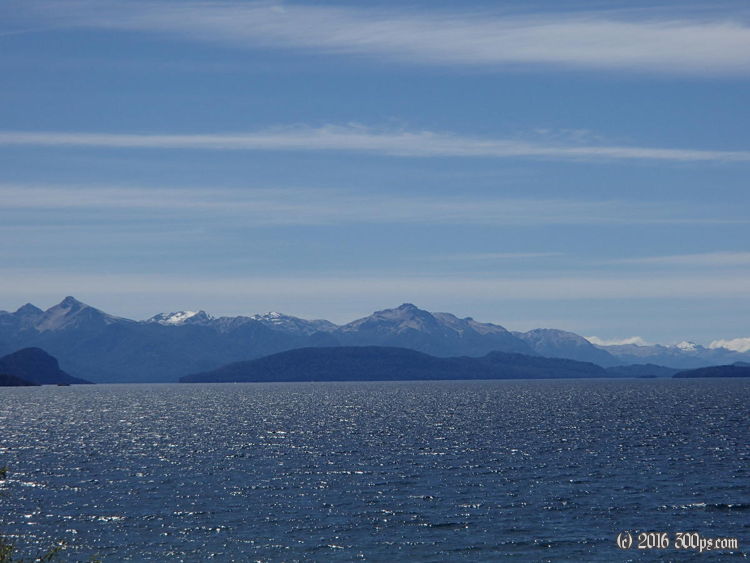 Friday, December 28th, 2012
Bright sunny day today and warmer than before. I was on the road just a few kilometers when I ran into Richard, a South African who is running/walking from Ushuaia to Mendoza. He has a three-wheeled baby stroller type thing where he keeps all his gear and camps most nights. We talked for a while about the road and the difficulty of finding water in the Pampa. It's a lot more complicated for him given his distances per day are lot lower than a bicycle. Impressive. We had just said goodbye when I ran into a Flemish girl coming in the other direction on a bike. She is doing Mendoz-Ushuaia, alone. The first solo female tourer I have ever run into. Richard caught up with us and we chatted for a minute and then everyone went on their way.
It was a 50 km ride into Bariloche that follows some beautiful lakes. It's a good thing it's all pavement because when I did have to get onto the gravel a few times I really felt the jarring in my arm because of the dog bite. When I got to town I found a hostel then dropped off my laundry. They soonest they would promise to have it done is 3pm tomorrow; once again held up by laundry. Of all things to have to take a day off for! I had much better luck at the bike shop. They had a rear rack for me to replace my broken one (which has miraculously survived 1,300 kilometers of mostly ripio with a broken stem. While I was there I figured I would get the rear derailleur cable replaced. He had the bike back to me with the rack installed and the new cable in 3 hours. The shop is called Bariloche Bikes at Moreno and Beschtedt right downtown. (Bariloche has some San Francisco style hills...)
Stocked up on food and made a big old dinner. The guys working at the hostel are cool, a good evening all around. I'm relieved to get the bike fixed, I was worried I would have to go to Puerto Montt in Chile to find a decent rack. If I get my laundry on time I'll be able to put in a half-day tomorrow, two half-days is better than a full day off.