Peralillo to Túnel Angostura: A long highway ride with a wild ending
---
Statistics for today
| | | |
| --- | --- | --- |
| Distance | 150.37 kms | 93.21 miles |
| Climbed | 606 meters | 1,988 feet |
| Ride time (hours) | 8.18 | - |
| Avg speed | 18.3 kph | - |
| Avg climb | 2% | - |
| Max grade | 11% | - |
Statistics for trip to date
| | | |
| --- | --- | --- |
| Distance | 3,212.21 kms | 1,995.84 miles |
| Climbed | 33,589 meters | 110,200 feet |
| Ride time (hours) | 247.91 | - |
On this page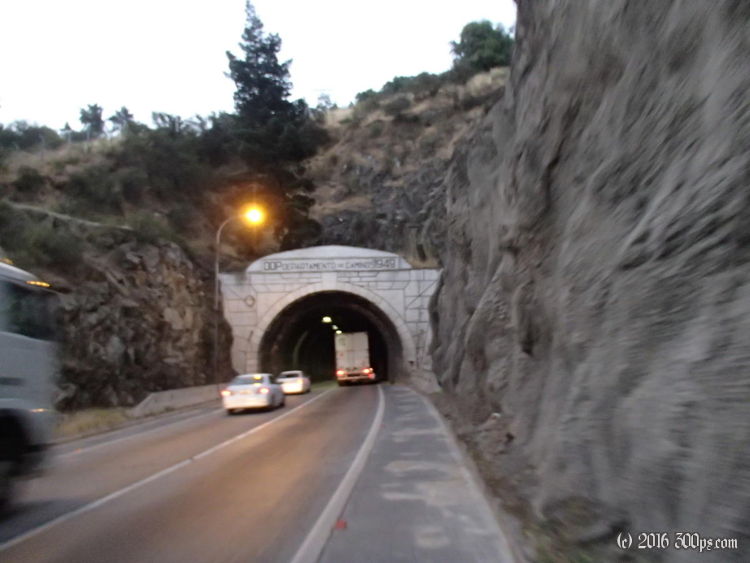 Tuesday, January 15th, 2013
Some mosquitoes kept me up late so I didn't get an early start. I grabbed a coffee at a place that had a real machine then went to the plaza to have a breakfast of pancito and dulce de leche. A guy came over asked me about my trip. We got to talking about Mormons, they have a church in Peralillo and a number of others in the area. In Pichilemu the church is an eyesore; almost all of the houses and buildings in the town are one level and then there is this massive complex built by the Mormons right smack in the middle of it all. This guy I was talking to said that they generated some interest in the beginning but they don't have too many "clients" now. Maybe it's because Mitt lost...
I spent the morning riding the flat 60 kilometers to San Fernando. Lots of truck and bus traffic on this road. It was quite hot, a true summer day. In San Fernando I had something to eat on the plaza and spoke to a young man delivering mail on a bicycle who wants to start touring. He is worried about money, I told him to start with what he had and that it would develop over time. I did my first tour with nothing but a backpack.
From San Fernando I headed north on Ruta 5. This is the same highway I was on from Los Ángeles to Chillán a week ago. For the rest of the day I just churned out the kilometers in the heat. Towards the end I wasn't seeing any camping opportunities; the landscape is mostly fields with everything fenced up tight with barbed wire. I figured I might have to ride late so I stopped to eat something around 7. I rode around San Francisco de Mozastal looking for a room but couldn't find anything. A carabinero told me about one place but they said they were all booked up. They must not get many foreigners around here; everyone was looking at me like I had just stepped off a spaceship. I decided to keep riding even though the sun was going down.
The highway at this point has bicycles prohibited signs. Looking at the map I couldn't see how I was going to get to Santiago without using the highway unless I did some serious backtracking. I don't like to backtrack. The valley I was in ends with a tunnel for the highway and no other road over the hills. I kept moving north on side roads until I came to a road block with a security guard. He was guarding access to a casino. I asked him if bicycles were allowed in the tunnel and he said yes, if you go against the traffic on the other side. That cannot be right. I don't know why but many people in South America are convinced that it is safer for bicycles to ride against the traffic. He let me through the roadblock, I reached the casino, and another security guard asked me where I was going. I told him what the first guard had said and he said no way, you can't ride a bicycle against the traffic through the tunnel, but that they were allowed going with the traffic.
I went up the hill to the tunnel and of course there was a sign that said bicycles forbidden. Whatever, I wasn't turning around. I went through with everyone beeping at me. At this point it was almost dark so as soon as I came out the other side I went off the road determined to make camp no matter how bad the spot. I hunted around on the embankment for any possibilities. I saw a culvert up the hill, I walked through it which took me under the barbed wire up on to a flat shelf of land bordered with thick bushes. Perfect. I just had to take off all the gear and drag everything through the culvert. It's the kind of spot I would never find unless I absolutely have to find a place to camp. It always works out in the end...