Copiapó to 5 kms north of La Junta: A double-double amidst the grapes
---
Statistics for today
| | | |
| --- | --- | --- |
| Distance | 115.25 kms | 71.46 miles |
| Climbed | 1,098 meters | 3,602 feet |
| Ride time (hours) | 8.05 | - |
| Avg speed | 14.3 kph | - |
| Avg climb | 1% | - |
| Max grade | 11% | - |
Statistics for trip to date
| | | |
| --- | --- | --- |
| Distance | 5,009.07 kms | 3,112.45 miles |
| Climbed | 50,139 meters | 164,498 feet |
| Ride time (hours) | 376.81 | - |
On this page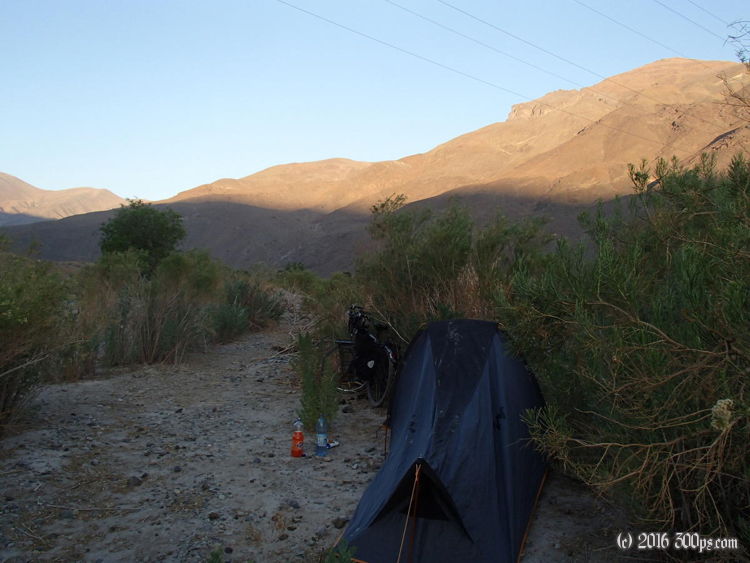 Tuesday, February 5th, 2013
My rear wheel is starting to flake out on me. I trued it again last night, then this morning the spokes made some popping sounds. Nothing broken though. I'm going to have to spend some serious time on it soon.
I was glad to get out of Copiapó this morning. Nothing I can specifically put my finger on, I just didn't like the vibe of the place. The ride out towards los Loros is another long, gentle climb. I was almost continuously going up but only gained 800 meters of altitude over a 100 something kilometers. About 45 kilometers from los Loros I passed a sign that said Pircas Negras. I looked at my map and could see the road the sign was referring to heading out towards the border. I kept going straight, wondering if I was making a 45k mistake... but the carabinero in Copiapó had told me to head out this way. The road follows a river as it winds through the mountains. Every available inch of the valleys are packed with grape vines. The grapes are being harvested so there was lots of activity on the road. They bus people up from Copiapó to do the harvest. I talked to a few of the workers and they told me that people come from all over to work the harvest. These are some really big operations, I saw that one of the companies was Dole and some of the "fundos" (plantations) are being catered by Sodexho. Very few people actually live up here.
That was it all day: hot, gentle climb amidst the grapes. At los Loros I stopped to talk to the carabineros. The guy on guardia told me that the pass is only open from Thursday to Sunday, like I had read on the internet but the carabineros in Copiapó had told me it was open all week... As it turns out this will be fine for me since it is Tuesday. This carabinero also recommended that I take the road that heads north from La Junta to La Guardia instead of going all the way down to Pastos Largos. It sounded good... until a couple of hours later when I tried to find this road. On my map it was past La Junta, the level of detail on these Copec maps is not great so it looked like it could have been anything from 2-5 kilometers past. In the end it turned out to be just before La Junta. In the meantime I rode about 10k round trip looking for it. I asked a bunch of people who didn't know, one of whom said it was raining up in the cordillera, then I talked to a group of workers sitting on the corner of a dirt road that just might have been a possibility. I told them what the carabineros had told me and where I was going, between that and looking at the map we concluded that this must be the road. The place on the map where the road comes out is listed as La Guardia but from what these guys said there is nothing there, just a fork in the road, which is why no one knew what I was talking about when I asked for the road heading to La Guardia.
It was getting dark so I just went far enough to get away from the vineyards then found a place to camp. Some dogs found me even though I was a good 5 kilometers from the nearest anything that wasn't a grape. This is the land of dogs in strange places. They didn't hang around, probably because they had ascertained that I wasn't cooking meat.
Dinner was delicious. I eat much better when I camp than I do when I'm in civilization.
Today was a double-double: at least 100k ridden and 1,000 meters climbed.