Rivas to Granada: Easy day
---
Statistics for today
| | | |
| --- | --- | --- |
| Distance | 69.81 kms | 43.50 miles |
| Climbed | 312 meters | 1,024 feet |
| Ride time (hours) | 3.80 | - |
| Avg speed | 18.3 kph | - |
| Avg climb | 1% | - |
| Max grade | 7% | - |
Statistics for trip to date
| | | |
| --- | --- | --- |
| Distance | 17,643.68 kms | 10,963.47 miles |
| Climbed | 202,369 meters | 663,940 feet |
| Ride time (hours) | 1,333.32 | - |
On this page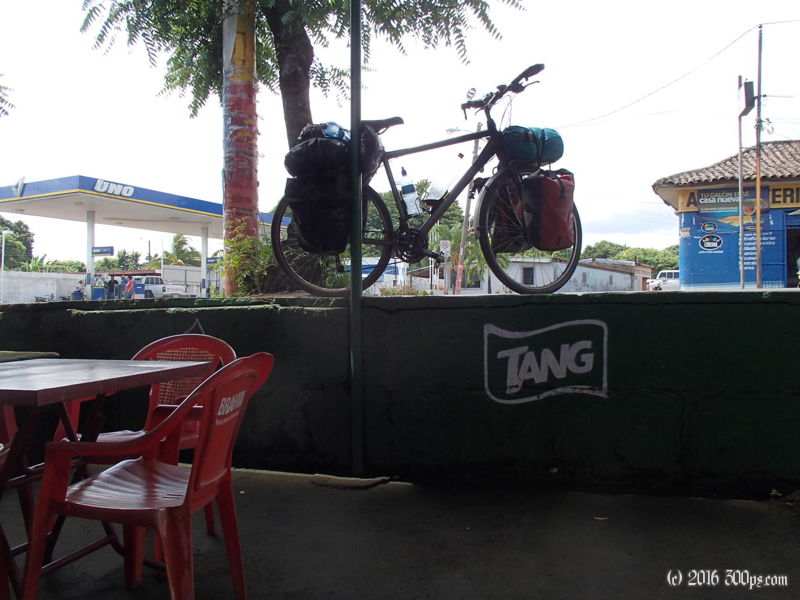 Monday, November 4th, 2013
I woke up in the middle of the night with a bad cramp in my calf. My right eyelid was also glued shut with whatever my eye was secreting to recover from the bug damage I incurred riding in the dark last night. A bit of mess I am. I resolved to take it slower today. I had ridden 432 kilometers over the last three days in hot weather so I figured I had best tone it down for a day.
I rode about 15k until I hit a restaurant with lots of trucks outside; usually the mark of good food and it was right on today. I took my time riding the 65-odd kilometers into Granada. I ran into a Polish guy coming in the other direction that had started his tour in the US and is headed to Argentina after stops in Cuba and the Dominican Republic. Well, I think he started in the US anyways. We could barely communicate with a mix of German, English, and Spanish. He is the first touring cyclist I have seen since Medellín, Colombia 6 weeks ago. A little later a guy who was collecting phone bills rode along side me for a while chatting about cycling. The noise from his extremely dry chain was driving me crazy so we stopped and I oiled it. The city of Granada has a nice colonial center that reminds me of Guadalajara, Mexico. I got a room at a hostel that has rabbits, turtles, and parrots hanging around the courtyard.
I took a look at the bike in the afternoon. I replaced a bolt that had gone missing from the rear rack, re-taped the handlebars, cleaned some wound grass out of the cassette that I hope was the cause of the skipping in the highest gear, and replaced another broken spoke nipple on the rear wheel. That makes three broken nipples: it's officially a trend. Not sure what could be causing this, I don't see anything out of the ordinary. The spokes are (allegedly) good quality Swiss DT as well.
I had an enjoyable evening speaking alternately with a couple of French guys, the Québécois owner of the hostel, an American teaching English here in Nicaragua, and a woman from Basel, Switzerland. It was nice to get a linguistic workout and have some evening social contact that doesn't involve drunk motorcyclists or crackheads...