Lebrija to Bucaramanga: Set up by cyclists
---
Map
Statistics for today
| | | |
| --- | --- | --- |
| Distance | 27.92 kms | 17.40 miles |
| Climbed | 481 meters | 1,578 feet |
| Ride time (hours) | 2.19 | - |
| Avg speed | 12.7 kph | - |
| Avg climb | 3% | - |
| Max grade | 10% | - |
Statistics for trip to date
| | | |
| --- | --- | --- |
| Distance | 15,487.64 kms | 9,623.79 miles |
| Climbed | 189,159 meters | 620,600 feet |
| Ride time (hours) | 1,214.65 | - |
On this page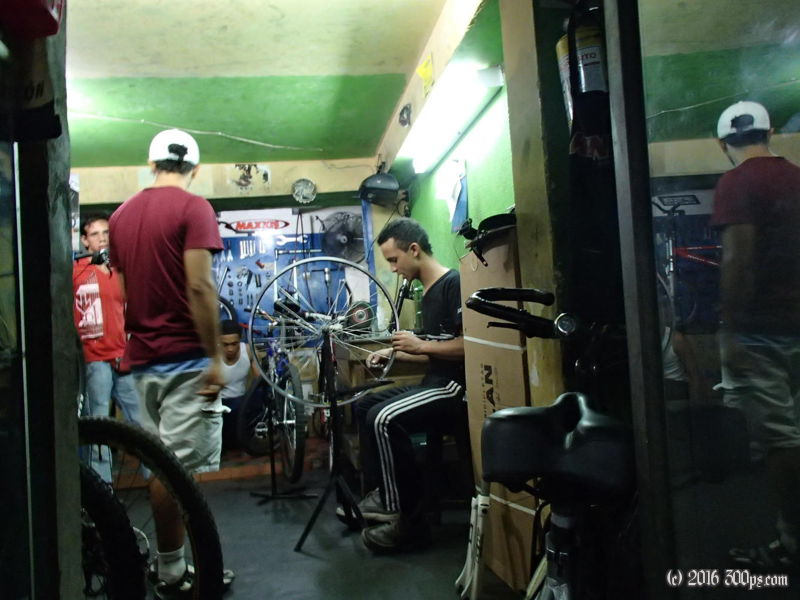 Sunday, October 6th, 2013
I had another long chat with the lady at the hotel this morning before tackling the last of the hot climb to Bucaramanga. There were tons of cyclists out for a Sunday ride heading in both directions on the highway. As I was entering the city a couple of them rode beside for a while to chat. I ended up stopping at a café with them for bread and soda, then one of them said he would show me where to find a hotel and bike shops. He led me through the city to a section that is full of bicycle places, one was open even though it was Sunday and they had a Mavic A19 32 hole double-walled rim in 700x23. That was too easy! They didn't have hubs or a mechanic though so I told them I would be back tomorrow. The cyclist (Fernando) led me to a hotel a few blocks away. Really nice of him to show me around and get me squared away. After a huge lunch of sancocho de carne across the street I booked into the hotel then lay down for nap... and woke up 5 hours later. I must have been really tired.
The next day when I went down to the bike shop I ran into Fernando again, the cyclist who had shown me the place. He had already ridden to Lebrija and back by the time I saw him. At this shop they had a Mavic 36-hole rim so I decided to go with that, using my old hub and spokes. They had it ready for my by 4pm with the news that they had to replace the cones. All told it came to less than $50 which is a pretty good deal compared to what it would have cost in the States. During the day I walked around and ran a bunch of errands: getting a new clamp for my broken mirror, buying a new knife (lost the old one somewhere), buying some headphones to replace my broken ones, and of course overeating for breakfast and lunch.
The new wheel feels great and I'm looking forward to getting back on the road tomorrow.