Day off in Jaén: working on the bike/how I learned how to change a flat tire
---
On this page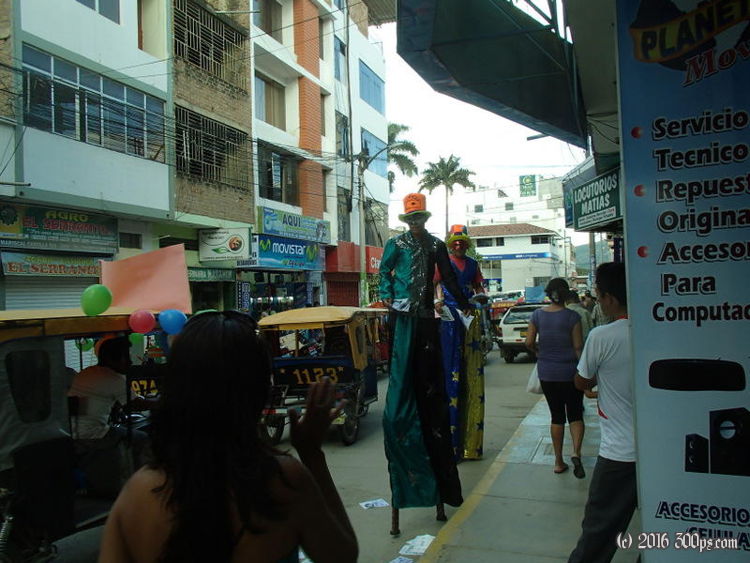 Monday, June 3rd, 2013
Last night I tried to patch my miserable tubes. I used all six patches that I bought yesterday but two of the tubes still have leaks. This morning I went back to the bike shop I was at yesterday to see if they had a tube that would fit my wheels. They had a 27 inch tube that will work, but it has a Schrader stem and only one of my rims is drilled for that size. Better than nothing.
Miguel, the owner of the bikeshop (El Ciclista on Bolivar 1636, two blocks up the hill from the Plaza de Armas), helped me out with a bunch of little problems with the bike: he adjusted the front derailleur cable, shaved down my front brake pads because they were a bit too wide for this rim, trued my front wheel, and reset the bolts on the front hub because there was some play in the axle. He didn't charge me anything for the work and he gifted me a tube of rubber cement for tube patching. Super nice guy, he has a book that visiting touring cyclists sign, he showed me one entry from a Spanish guy who teaches Basque language.
By the time we were done with the bike the morning was gone so I figured I would just make this a rest day so I could get my laundry done. I paid for another night at the hostal then went to the laundry place where they told me they couldn't have it ready until tomorrow night unless I wanted to pay double for "express" service. I asked what was up with that, one day for doing laundry doesn't seem excessive, and they told me the dryer takes 3 hours. 3 hours?? The thing about Peru that drives me crazy is that I don't know if it's just really screwed up here (who has a dryer that takes 3 hours?) or if they just assume that I'm an idiot and are trying to rip me off. At any rate I took my dirty laundry back. I'm not paying 10 bucks to have one load of laundry cleaned, I prefer to smell bad at those prices.
How I learned how to change a flat tire
As I mentioned in the introduction to this blog, when I first started touring I was completely clueless about all things related to a bicycle. I somehow managed to ride the 2,500 kilometers from Berlin to southwestern France without getting a flat until my luck ran out in the Massif Central near Clermont-Ferrand. I was in the mountains when it started snowing, wet and heavy snow, that had me freezing and soaked to the bone. The front tire suddenly went flat as I was navigating the slush. I took out the spare tube that I had bought in Berlin and quickly realized that I bought the wrong spare: the tube had a Schrader valve but my wheel was only drilled for Presta. I had no patches or glue so I was out of luck. I walked the bike in the snow for a couple of kilometers until I came to a group of 4 houses at a small intersection. I walked around the buildings once but didn't see anyone. I was at a loss about what to do so I walked around the buildings once again, but this time someone called out from a window asking if I wanted a cup of coffee. I said yes please... I was shivering wet. I went inside where I met a group of 4 guys who were hanging out around a table drinking coffee.
I told them what was going on with the tire, they rummaged around and found some patches and glue then proceeded to help me patch the tube and re-install the wheel. Because the weather was so bad they suggested that I stay there for the night. We hung out all afternoon drinking coffee while a steady stream of people came to visit. Each time someone came they would roll a cigarette and smoke it, then go outside with one of the guys that lived there before leaving shortly thereafter. I thought it was really strange that so many people were coming by to visit in the middle of nowhere on a weekday until I finally figured out what was going on: the guys that lived there were dealing hash.
A couple of them drove me the 50 kilometers to a suburb of Clermont-Ferrand to buy a spare tube at Decathlon. They made dinner back at the house while the wet snow continued to rage outside. I crashed there for the night, leaving early the next morning. Rescued by a group of hash dealers in the mountains of southwestern France... what are the odds? Great people though... they wouldn't even accept gas money for driving me to buy the spare tube. And that is how I learned how to change a flat tire...