Paso Chacabuco to 3 kms west of Túnel Cristo Redentor: Paso Cristo Redentor: Night climb through the Andes
---
Statistics for today
| | | |
| --- | --- | --- |
| Distance | 92.96 kms | 57.79 miles |
| Climbed | 2,375 meters | 7,792 feet |
| Ride time (hours) | 9.66 | - |
| Avg speed | 9.6 kph | - |
| Avg climb | 4% | - |
| Max grade | 23% | - |
Statistics for trip to date
| | | |
| --- | --- | --- |
| Distance | 3,499.31 kms | 2,174.18 miles |
| Climbed | 37,523 meters | 123,107 feet |
| Ride time (hours) | 271.62 | - |
On this page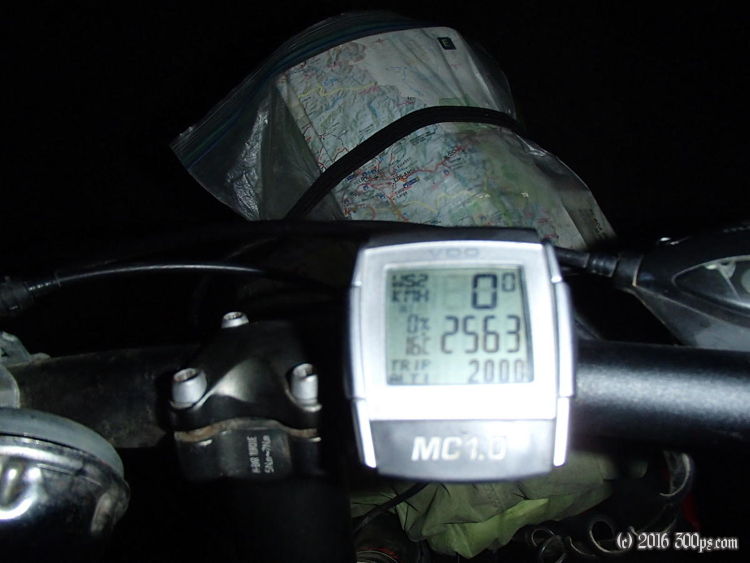 Saturday, January 19th, 2013
I got up early and made the descent on ripio into the next valley. There was a casino on this side of the tunnel, just like there was a casino on the other end of the tunnel on the south side of this valley that Santiago sits in... strange, I wonder why at the end of tunnels. There was nothing else near either of those tunnels.
I made my way into Los Andes where I picked up a few things at the supermarket and went to the park to eat breakfast. I was joined by Ernesto, a retired Chileno who wanted to talk economics. He worked in the mining industry in the north, according to him the money made from the mines all goes to the landed elite. Nothing new there... He also worked on the Carretera Austral so we spent some time talking about the different places I had seen on my trip. Nice guy. When he left another guy who was feeding bones to the stray dogs came over and we talked about my trip for a little while. Next came a guy who was already well into his cups at 11am, he kept saying God was with me, I hope God is with him... drunk at 11am is a rough life. When he left another drunk came over and I had had enough conversation so I took my leave.
It was a hot ride up towards the mountain pass, I had the wind at my back and the grades were not steep so I made it to Guardia Vieja in good time only to find an enormous line of trucks and cars: the pass to Argentina was closed. They are working on the road, because there is only one lane open the pass is available from 8pm to 7am going from Chile to Argentina and from 7am to 8pm going from Argentina to Chile. This put me in a bad situation, I had no choice but to ride the pass at night. If I camped before I got to the end of the road work I would be stuck for another day so I had to do it all in one shot.
I met a bunch of people while waiting the 5 hours for the pass to open. I spoke with a motorcyclist from Brazil about Decathlon, apparently they have a couple of Decathlon stores in Brazil. He recommended that I ride the Brazilian coast and said that it would be safe as long as I took a bus to avoid Rio de Janeiro. I spoke to French guy named Jean-Michel from Le Mans about northern Chile and Argentina. He was full of tips for things to see and do. He shipped his mobile home from France to Buenos Aires and has kept it in Uruguay for 3 years, coming once a year during the French winter to travel around South America. I met a German guy named Mikael who had done something similar, shipping his truck to Buenos Aires, but he had been travelling in it around South American for 4 years non-stop. I spoke to him for at least an hour, it really put my Volkhochschuledeutsch to the test... (Volkhochschule is like a German adult continuing education center they have in German cities, I learned most of my German in one of these schools in Berlin). Mikael's truck is a Bremach. I had never heard of the brand, it looks like an armored personnel carrier. He said it was all custom, one time he had to wait 6 weeks in Colombia for parts to arrive from Germany. Lastly I met an American motorcyclist who grew up in the same town as my mother in Massachusetts. He had bought the motorcycle from a guy who had ridden it from Seattle to Argentina, now he was at the end of a long trip with the bike and he was trying to figure out how to get rid of the motorcycle without having immigration problems when he left. In the Mercosur countries they have tricky rules about vehicles: if you buy one here you can't take it out and if you bring one in from abroad you can't leave it. If I were him I would just dump it somewhere and report it stolen to the insurance company, he wouldn't get paid because he didn't have comprehensive but at least the vehicle would be officially removed from his record. There was no way he could legally sell it with US plates on it, and if he sold it the motorcycle would remain associated with his passport forever.
I used the extra time to make dinner and install the new mirror I bought in Santiago. I knew it was going to be a long night...
8:30pm: They finally opened the gates. The carabineros gave me a 10 minute head start on everyone else so I could get through the toll before a long line formed.
9:15pm: It was dark and I put my lights on. The serious climbing started about here.
10:00pm The trucks started passing me. There was a huge pent up line of them, the police let the cars go first then it was an endless line of trucks passing me.
10:30pm: I picked up strong headwinds and reached to the foot of the "caracoles" (caracoles means snails in English, it is a huge set of switchbacks going up over the mountains). Here I started passing the same trucks that had passed me. The switchbacks are so brutal the trucks could only go 10-15kph.
11:30pm: A couple of Germans in a Land Rover stopped and asked me if I wanted a ride. I said no I was having a blast. Lots of people beeped and waved as they passed me, and a few yelled out "loco".
11:45pm: I reached the section where the left-hand lane was ripped up. Up until then I had been riding on the left because there wasn't enough room on the right for both the trucks and myself. One truck kept getting stuck in the hairpins, which worked in my favor because each time it blocked the traffic for 10 minutes and allowed me to ride alone in the right-hand lane. It was pitch dark, no guard rails, kids don't try this at home.
12:20am: I reached 2,000 meters climbed for the day.
1:00am: I finally reached the top of the caracoles. One of the hardest climbs I've done given the darkness, the trucks, the state of the road, and the head winds.
1:30am: I re-passed all of the trucks that had passed me. They were now waiting in line for customs. At the customs house they waved me through, saying I would do all of my paperwork on the other end of the pass in Argentina.
2:00am: I completely bonked. I could barely keep the bicycle moving forward. There were a lot of factors working against me: I had been up since 7am and riding most of the day, it had been hot all dayl, now it was dark, I had a cold head wind, I had just done a huge amount of climbing (2,375 meters), and I had reached 3,000 meters altitude which was taking its toll. I looked around for a place to crash and couldn't find much, it was all chaotic rocks and boulders on the side of the road. Finally I saw an old tunnel section and stopped there.
2:30am: I was too exhausted to set up the tent so I just laid down the mattress and got into the sleeping bag. Too tired to eat as well. Toughest day of the trip, my doctor would be proud of me. Hijo de la chingada.