Challapata to Oruro: Long day of headwinds, then a storm
---
Statistics for today
| | | |
| --- | --- | --- |
| Distance | 123.99 kms | 77.05 miles |
| Climbed | 331 meters | 1,086 feet |
| Ride time (hours) | 9.32 | - |
| Avg speed | 13.3 kph | - |
| Avg climb | 1% | - |
| Max grade | 6% | - |
Statistics for trip to date
| | | |
| --- | --- | --- |
| Distance | 9,007.64 kms | 5,597.31 miles |
| Climbed | 88,297 meters | 289,688 feet |
| Ride time (hours) | 691.16 | - |
On this page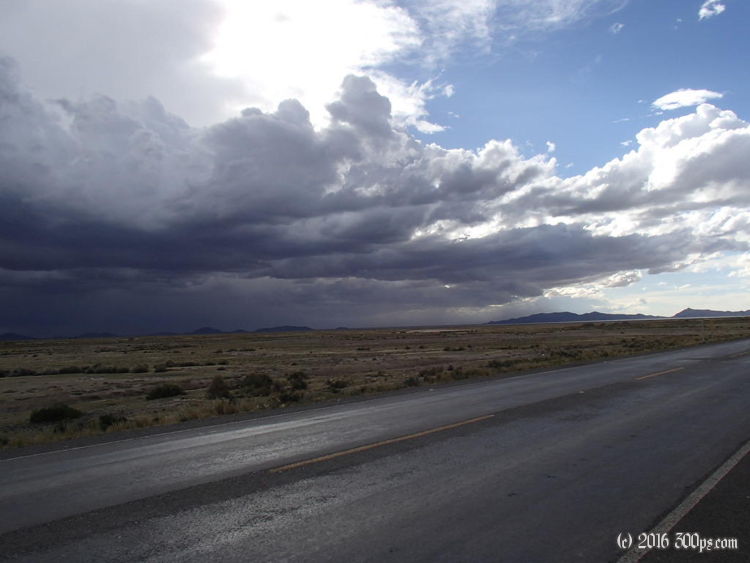 Wednesday, April 3rd, 2013
I felt better when I woke up, I definitely didn´t want to hang around Challapata for a whole day so I decided to head for Oruro. I was on the road early and there was no morning break from the headwinds today. The road heads pretty much straight north through a mix of sand and salt flats along Lago Poopó.
At the halfway point to Oruro there is a town called Pazña that boasted, according to a large sign, a hotel with internet and hot spring baths. It seemed too good to be true but I wasn´t feeling well and was prepared to stop early and rest. When I made it to the hotel it was closed. Yup, too good to be true...
The winds really picked up after Pazña, then dark clouds appeared on the horizon. When they caught up with me it came in the form of a sand storm, then thunder and lightning and rain. The good news with the storm was that the winds shifted from north to south and I picked up a lot of speed to get to Oruro. It rained hard...I can´t remember the last time I had had rain like this. I´ve been pretty lucky in that respect on this trip.
About 15 kilometers outside of Oruro there is a junction that delivered lots of traffic onto this highway. Here I discovered that Bolivians like to pass in either direction regardless of the presence of a bicycle just like their Chilean and Argentine neighbors.
Made it into Oruro with heavy traffic and street lights not working, rain and gusts strong enough to stop me dead in my tracks. I went to the center and grabbed the first hostal that I saw. 12 dollars a night. This place is the most hotellish of all the hotels I´ve stayed in on this trip. It even has little soaps and shampoos and an elevator. This country is amazingly cheap...
I really feel awful tonight. I will be taking the day off tomorrow to try and recover. Today was one of those dog days of bicycle touring where you just slog through it even though it sucks.