Gas station to Kirkenes: Ouff I've got a hangover, still over 300 miles to go in the rain.
---
Map
Statistics for today
| | | |
| --- | --- | --- |
| Distance | 563 kms | 350 miles |
Statistics for trip to date
| | | |
| --- | --- | --- |
| Distance | 10,830 kms | 6,729 miles |
On this page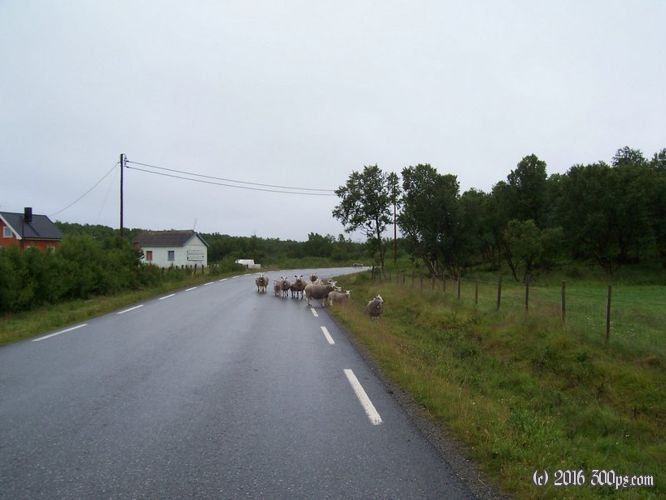 Thursday, July 28th, 2005
Thurs. 9:00AM - The station opens up right on time at 9. I gas up, say goodbye to the Finns, get something to eat, then head south. E6 towards Kirkenes. It rains almost the whole way and it doesn't get out of the 50's. The northern coast of Norway on the Barents sea is beautiful like the rest of Norway.
Thurs. 6:00PM - When I pull into Kirkenes it's raining hard. The B&B in my guide book doesn't exist anymore but there is a house behind hit with a "Rum ledigt" sign on it which I vaguely understand to mean rooms available. An old guy answers the door and tells me the price is 400 kroner. I say no thanks and walk away then he says 300 and I take it. He's a retired fisherman, doesn't speak any English and only a little German. We manage to understand each other enough to get to the room, show me around and find a place to park Greta behind the house.
Thurs. 8:00PM - I take a hot shower and it's the best damn one I can remember. It's freezing now in Kirkenes, in the low 40's and still rainy. I'm bummed I have to go out again to get something to eat. The city is completely dead. It really feels like the end of the world. It's hard to believe anyone can live up here.
Thurs. 10:00PM - Finally to bed. In the last two days I have driven almost 900 rainy miles with 2 hours of sleep. I am bushed.