Cycling Alamo Lake Day 4: Wickenburg Road to Vulture Mine Road
---
Sagebrush, Saguaro, and Sweat
Map
Statistics for today
| | | |
| --- | --- | --- |
| Distance | 81.00 kms | 50.33 miles |
| Climbed | 527 meters | 1,729 feet |
| Ride time (hours) | 5.89 | - |
| Avg speed | 13.7 kph | - |
Statistics for trip to date
| | | |
| --- | --- | --- |
| Distance | 1,670.09 kms | 1,037.69 miles |
| Climbed | 12,584 meters | 41,286 feet |
| Ride time (hours) | 132.12 | - |
On this page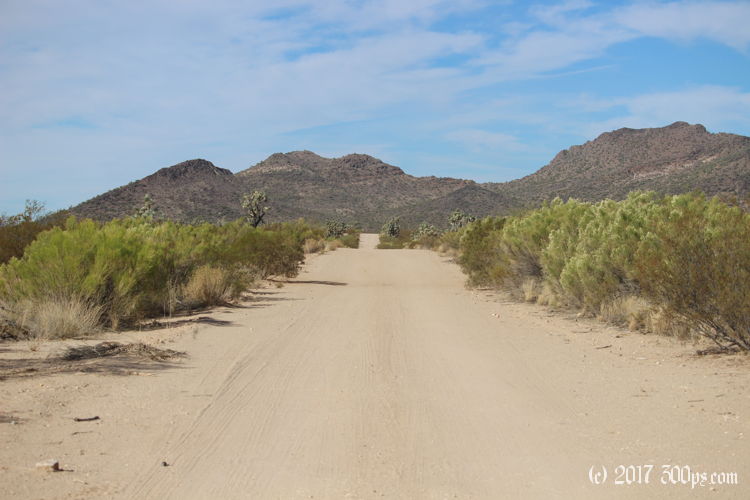 Friday, November 10th, 2017
I'm up early again, packed and on the road before 8am. I've got the wind in my face and a sandy road in my future for 20 miles until I meet up with route 93. I'm feeling very zen this morning about the conditions. I take my time, riding slowly, not trying to brute-force my way through the washes. This approach keeps me riding instead of walking. The soft sand doesn't submit to high-torque pedaling, but it will give way somewhat for the soft touch. In fact, the road seems much easier than the last time I rode it even though I know it hasn't changed: I can still see my tire tracks from when I came through here weeks ago.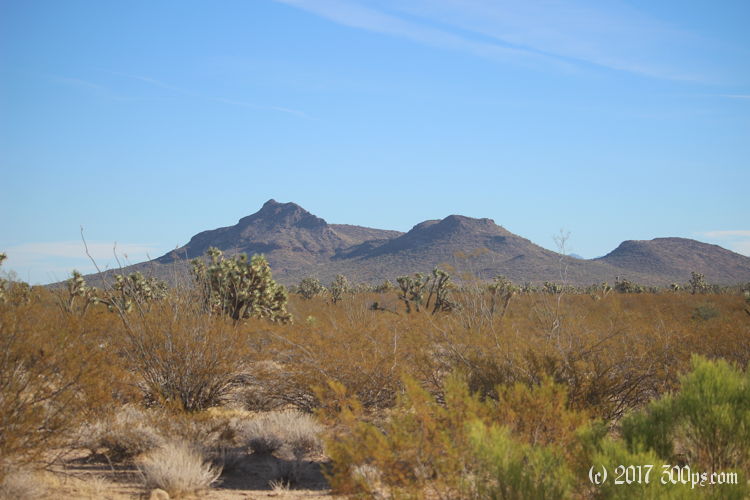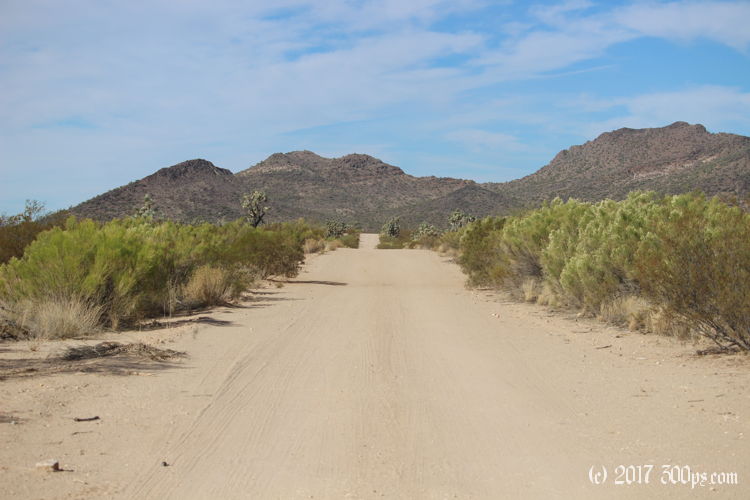 At route 93 I get out the pump to reflate the tires for the pavement. On the first stroke I hear sand rasping in the plunger. I take it apart, rince the tube with water, and put some chain oil on the plunger 0-ring. 100 strokes for each tire to get them from 25 to 75psi. Now it's 20 miles of truck hell, into the wind, to Wickenburg.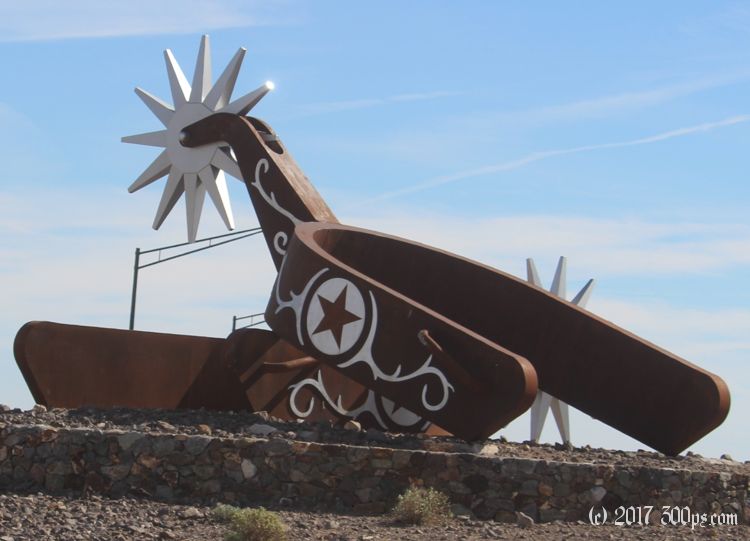 Wickenburg has many joys in store for me, not necessarily in order of importance: 1) eating lunch at Denny's 2) getting high-speed internet outside the library (the window says they're open on Friday until 5pm but the doors are locked with no one in sight) 3) dumping 4 days'-worth of stinky trash 4) shopping at a bona-fide supermarket (Bashas).
The waitress at Denny's is downright cute. Maybe it's just from being alone in the desert so long but I have to restrain myself from grabbing her butt each time she walks by. She's all tatooed up as well... my mind is racing. When I'm finished eating I head for the libray, that will calm me down. Nothing like a library to cure one of randy thoughts. It's locked but the internet is on and it's smoking fast. I sit at a picnic table on their nice, green lawn in the shade of a big tree; almost as good as being inside except out here I can't plug in to charge anything.
At Bashas I pick up an onion, two peppers, some salami, a gallon of water, and a pack of trail mix. While I'm perusing the aisles "Southern Cross" by Crosby, Stills, and Nash is playing on the supermarket sound system. "So I'm sailing for tomorrow..."; I'm overwhelmed with a feeling of gratitude for being out here poking around the desert. The music just kicked off the good vibe.
All shopped up and I'm good to go. It's 3pm which should leave me plenty of time to get out of civilization and back into the desert to camp. I ride through town (on a bike path!) until I find Vulture Mine Road heading south. I have to go 6 or 7 miles until I'm past the barbed-wire fencing and the "permit required" signs to a place where I can head off to camp. In the event my chosen path is a rocky OHV trail that climbs up some mountains. I go high enough until I'll be out of sight from the road below, then set up the tent on a flat switchback of a side trail. I make and eat dinner with a front-row seat to the sun setting behind the mountains on the other side of this small valley/canyon. "In a noisy bar in Avalon I tried to call you..." After dark the crickets sing along to keep me company.