Ratchaburi to Cha-am: first look at the coast
---
Statistics for today
| | | |
| --- | --- | --- |
| Distance | 105.60 kms | 65.87 miles |
| Ride time (hours) | 5.04 | - |
| Avg speed | 20.9 kph | - |
Statistics for trip to date
| | | |
| --- | --- | --- |
| Distance | 429.60 kms | 267.19 miles |
| Ride time (hours) | 23.63 | - |
On this page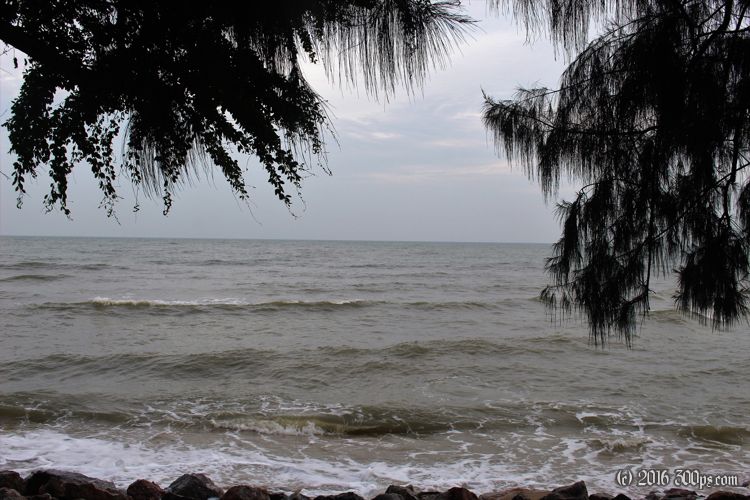 Monday, December 5th, 2016
Today's goal: get to the coast. A stretch of highway between me and that water, not terribly long at only 100k, hot and flat. More of Mexico, it seems. Complete with trash by the side of the road, unfinished or abandoned buildings, stuff burning in the distance, endless roadside stands selling everything from roast chicken to dried fruit to chewing gum.
The verdict on my $6 night's sleep is you get what you pay for. Something bit the crap out of my back, I had to get up at 3 am to liberaly apply bug repellent. Sometime later some very loud people came back to their rooms. I got up again to put in earplugs.
After checkout I sleepily cobble together a breakfast from several street vendors: a grilled sandwich-like thing with strawberry jam as the filling, spring rolls, a bowl of noodles. Can't find any coffee until I get on the highway, from then on coffee shops are as ubiquitous as petrol stations.
It's highway 4 all the way, a straight shot. The weather report is rain but I only get a few sprinkles. More sun the closer to the coast I get, and with it comes the heat. I take a break for a bowl of pork and noodles loaded with chile. They love their hot food in Thailand.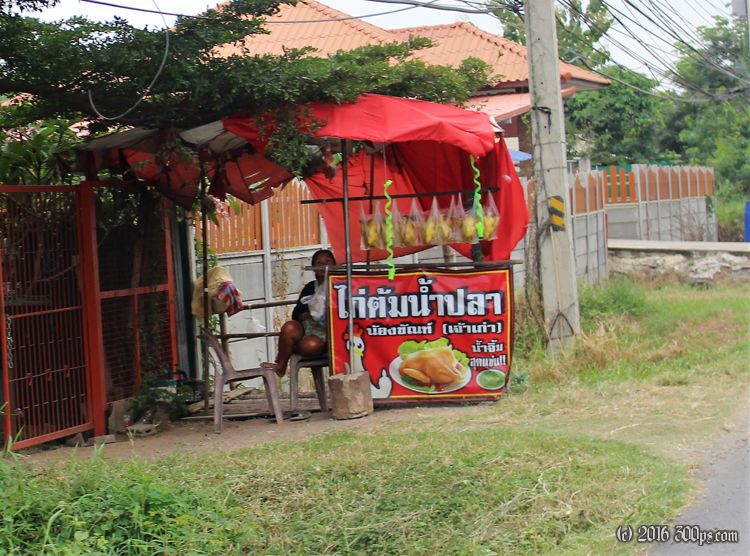 I roll into Cha-Am around 3pm and grab a guesthouse for $8 US. Interesting that it is invariably cheaper to book on the internet than show up at the door. The economics of that escape me. They are paying a commission to the booking sites so in theory the face-to-face price should be cheaper as no commission is paid. I drop my stuff and head to the beach, only two blocks away. I'm a bit disappointed: the beach is a tourist and tourist-vendor scrum. For some reason I had it in my head that it would be quieter.
A good dinner of chicken curry with rice then hanging out at the guesthouse in the evening. It's expat trivia night (all Europeans), I'm tempted to jump in when an NFL question comes up.