Day off in Santiago: sleep, eat, chores
---
Statistics for today
| | | |
| --- | --- | --- |
| Distance | 32.19 kms | 19.88 miles |
| Climbed | 133 meters | 436 feet |
| Ride time (hours) | 2.85 | - |
| Avg speed | 11.3 kph | - |
| Avg climb | 1% | - |
| Max grade | 2% | - |
Statistics for trip to date
| | | |
| --- | --- | --- |
| Distance | 3,326.94 kms | 2,067.30 miles |
| Climbed | 34,099 meters | 111,873 feet |
| Ride time (hours) | 255.77 | - |
On this page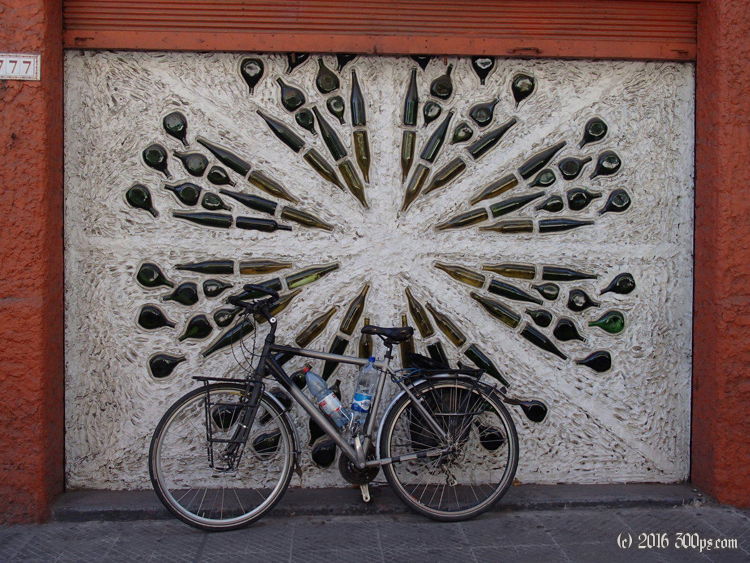 Thursday, January 17th, 2013
I chatted with the girl working the front desk in the morning, trading hostel war stories. I worked the night shift in a hostel in Paris years ago. Crazy stuff happens in hostels... Most of the stories she had were from when she worked in Córdoba, Argentina. This hostel is small and very quiet.
I spent the morning trying to get dollars without success. The mistake of not bringing cash with me on this trip is costing me a pretty penny... I picked up my laundry, bought a new hat with a brim (I needed to up my sun protection, plus my PriceWaterhouse cap is about dead), and went to a few bike shops. I found an eyelet thingy for my front fender but couldn't find any good quality 700x35 tires. A few of the shops had a Kenda in that size but I was holding out for something beefier. Maybe I'll get one anyways tomorrow so I can ditch the Michelin that's splitting.
Santiago has the bicycle bug. Lots of bike paths, although they never seem to last all that long, and a bike sharing program. There are lot of people out riding/commuting on the paths.
I had an excellent dinner at a place I chose at random. The owner is John, a Chileno who worked for 20 years in the states. We talked for a while about differences in cultures and work ethics. Nice guy, and a damn good cook.
Tomorrow I should be back on the road heading for Mendoza.