El Rosario to San Quintín: Battling the traffic
---
Statistics for today
| | | |
| --- | --- | --- |
| Distance | 71.37 kms | 44.12 miles |
| Climbed | 490 meters | 1,608 feet |
| Ride time (hours) | 5.11 | - |
| Avg speed | 13.9 kph | - |
| Avg climb | 4% | - |
| Max grade | 13% | - |
Statistics for trip to date
| | | |
| --- | --- | --- |
| Distance | 23,522.52 kms | 14,616.51 miles |
| Climbed | 250,558 meters | 822,041 feet |
| Ride time (hours) | 1,682.90 | - |
On this page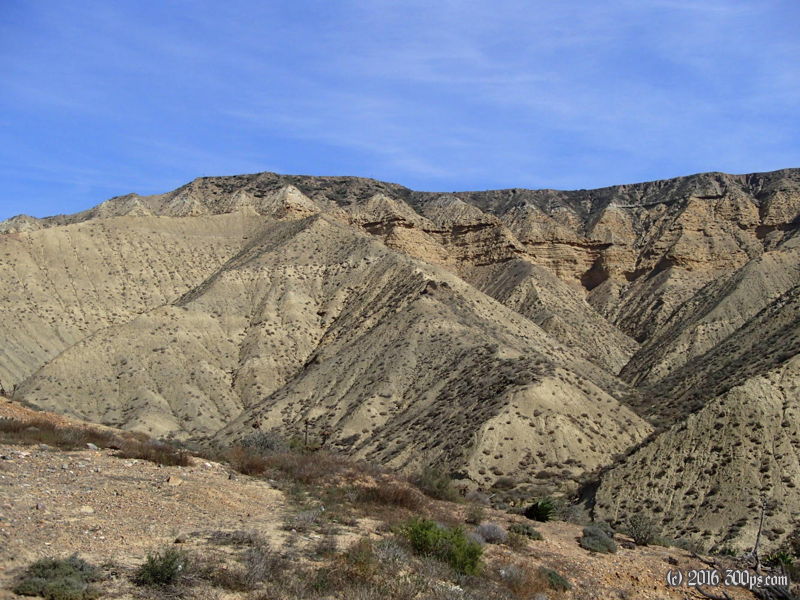 Tuesday, March 18th, 2014
I wake up early but I don't make it out of bed until 7. I've resolved to take it easy today since I've been pushing it pretty hard lately. I haven't taken a rest day since I left Guadalajara so I need to chill out a little bit. I ride the bike down to the Oxxo to get a cup of coffee. I've got 50 pesos left. I thought I might have stashed a 500 in my other wallet but I come up empty when I check, just some Euros and that 20 Swiss-franc bill I've been carrying around the world for far too long. I can't even remember the last time I was in Switzerland.
Finally I get on the road at 9. The day starts with a 230 meter climb over 5 kilometers. At the top I cross a military checkpoint where I rap with the soldiers for 10 minutes. The ask me to open one of my panniers but don't even look inside. Afterwards the road descends to the coast. There is a cool wind coming off the water that isn't working in my favor but nothing too dramatic compared to the last few days. I take frequent breaks. 20 kilometers south of San Quintín things start to get ugly. It's the usual shoulder-less road but now the increase in traffic makes it dangerous. I have to constantly check my mirror for developing passing situations. I have a few close calls with trucks - I hate that feeling when I know they are way too close and I scrunch up my neck dreading getting sideswiped... 5k before the city I just give up and start riding on the dirt track next to the highway. I'll get there eventually, no use dying to prove a point.
I find an ATM at a Pemex station that funds my visit to a bonafide supermarket in San Quintín to stock up on supplies. The security guard lets me keep the bike inside the store, gracias dude. Back on the road I pick up a drafter on a mountain bike. He lets me do the work for 5k then pulls alongside to talk to me for a bit, he comes from La Paz and was out riding in the hills all morning. He peels off then I see a sign for camping not far outside the city. I ride down the dirt road and get a nice spot under a Palapa. Dinner reflects the good fortune of just having been to the market, then it's internet time and soon to be lights out. I'm the only one camping here tonight.