Glacier National Park to Lake McGregor: let's not get started on Mormons
---
Map
Statistics for today
| | | |
| --- | --- | --- |
| Distance | 301 kms | 187 miles |
Statistics for trip to date
| | | |
| --- | --- | --- |
| Distance | 7,417 kms | 4,609 miles |
On this page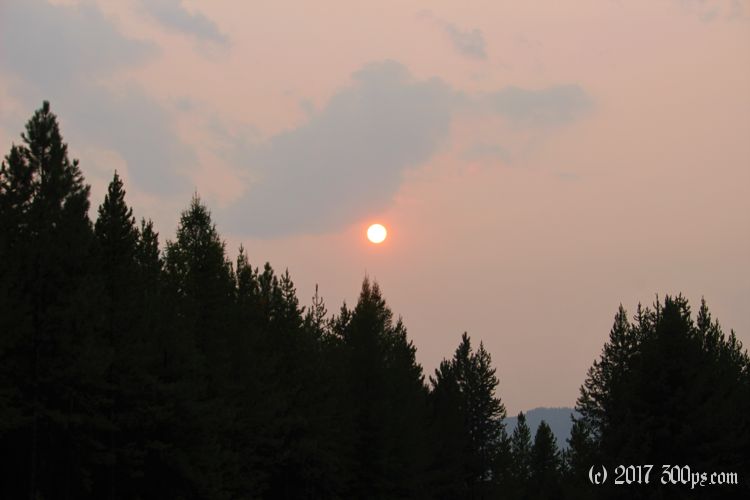 Tuesday, August 8th, 2017
I pack up and move out of Big Creek campground this morning. I ride through the park, when I exit in West Glacier Wynn is still there hitch-hiking. Man, he's been there a long time. I stop and buy him a coffee at the gas station. He wants to talk about Mormons -- my grandfather came from a Mormon family -- but I can't let him get started, otherwise I'll be there for an hour nodding my head. I want to move on. I wish him luck and head down to Kalispell to do laundry.
After laundry in Kalispell I hit the library for some internet time. I've quickly burned through the day; I stop for groceries on my way out of town then head straight for a campground that's just 30 miles or so west. I'm disappointed when I pull into Lake McGregor, the sites I see are all RV-type, charmless little parking lot sites. I'm tired so I pick one anyways. I decide to ask the camp host about my parks pass to see if it gives me a discount; she says no but points out that there are tent sites right next to the lake. I'm glad I asked! I move my stuff down to a tent site set back in the woods just 50 feet from the lake. A nice, relaxing evening including a swim in the warm lake water.
They've got a poster with a recipe for a crawfish boil on the campground bulletin board. Crawfish boil in Montana? I only thought they did those in Louisiana. The recipe looks quite authentic, just missing a healthy dose of Zatarains spice... I suppose this means there are crawfish in the lake. Sure enough, while I'm relaxing on the beach after my swim I see a bird dive in the lake and come out with a crawdad.