Davenport to Lone Fir Campground:
---
Map
Statistics for today
| | | |
| --- | --- | --- |
| Distance | 274 kms | 170 miles |
Statistics for trip to date
| | | |
| --- | --- | --- |
| Distance | 8,093 kms | 5,029 miles |
On this page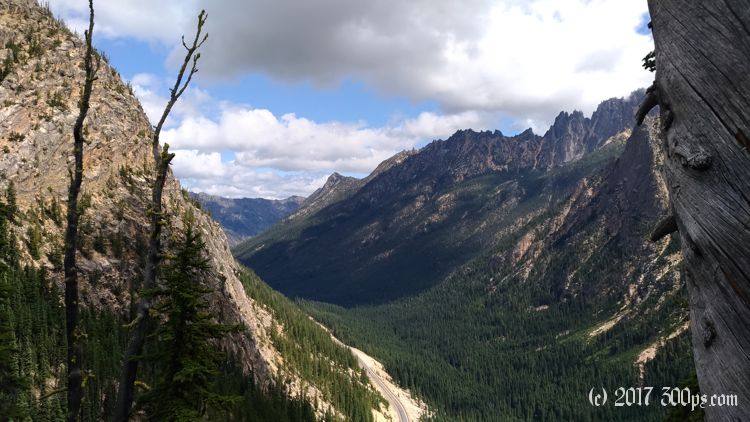 Saturday, August 12th, 2017
I haven't seen the weather report, but if I were to venture a guess I would say: hot and dry. At least to start the day it's a bit overcast, enough to keep it reasonably cool at speed on the motorcycle. Last night looking at the map I saw that I'm not too far from Grand Coulee Dam. I make that my first destination.
The dam is a massive structure. A sign says that it still the largest concrete structure in the world. I stop in the museum to take a look around. This was one of FDR's public works projects started during the Great Depression. What I'm struck by is the number of people they had to move out to this desolate area to work on the dam, feed them, house them, school their children, etcetera... It must have been a huge logistical undertaking.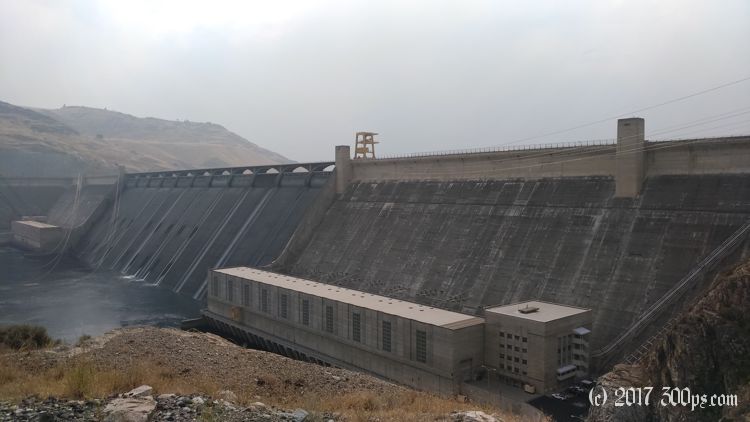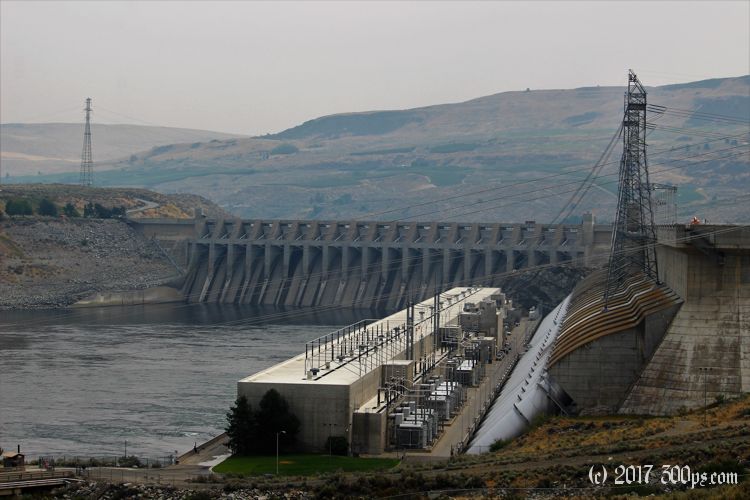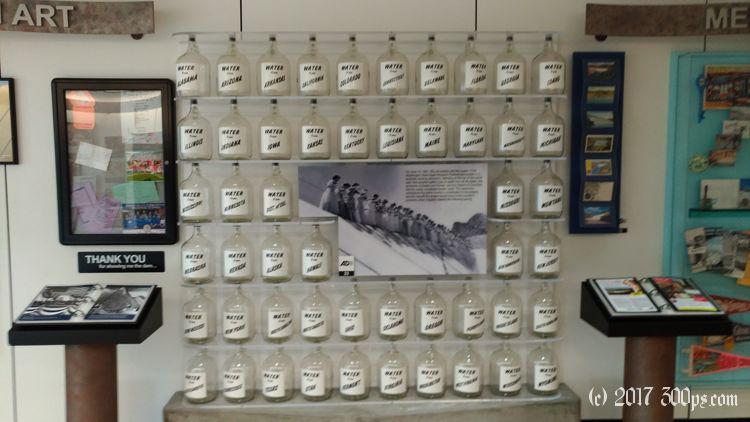 After the dam I head north. I'm dying to get a way from this smoky heat on the plains. I head for Cascades National Park, the closest thing in the mountains that looks interesting. I get up to cooler elevations after another 80 miles or so of plains/canyons. The riding is good: long, sweeping turns in the canyons, then switchbacks in the mountains.
Outside of a town called Winthrop I shop for groceries because it looks like the last settlement of any size before the park. I get gas as well, and actually have to wait in line. This place has all the trappings of a serious tourist town, and we're in serious tourist season. The people smell of money... Seattle is not too far away.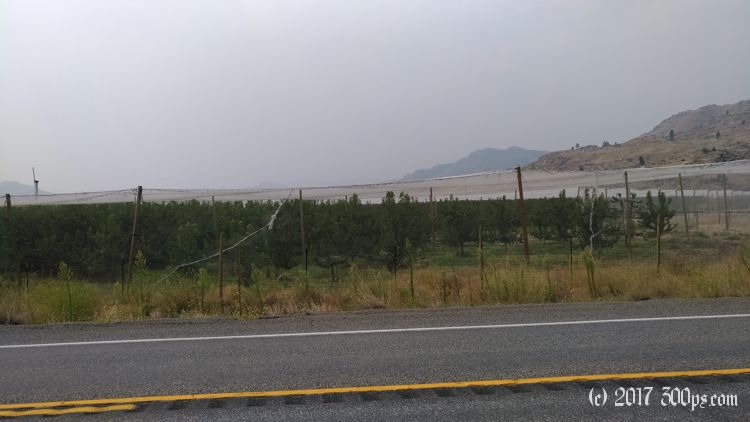 As soon as I'm in the park I know this is going to be good. At first I ride up to Washington Pass, I have so much fun on the turns on the way up that I quickly back track to a campground below the pass, get a site, drop all my gear, then get back on the road free of any weight so I can have some real fun. I end up riding 70 miles all the way out to the western entrance to the park. Woohoo that is a fun road... I stop at the ranger station in Newhamel to get information on hiking. The "rangers" there are just kids on what looks like a summer stint so I don't get much out of them. They do have descriptions of the hikes posted on a bulletin board; I take pictures to look at them later. I fill up on water from the bubbler because the pump is broken at the campground I'm staying at.
The ride backs is just as fun as the ride down. I stop at Diablo Lake Overlook to take some pictures, other than that I'm just enjoying getting down in the curves. I'm not the only one... this road is crawling with motorcyclists.
Back at camp I make dinner and plot my hikes for the next few days. I'll be here for at least 3 days I think, enough to sample some of those glacier-topped mountains.