Flaming Gorge to Dinosaur National Monument:
---
Map
Statistics for today
| | | |
| --- | --- | --- |
| Distance | 275 kms | 171 miles |
Statistics for trip to date
| | | |
| --- | --- | --- |
| Distance | 11,023 kms | 6,849 miles |
On this page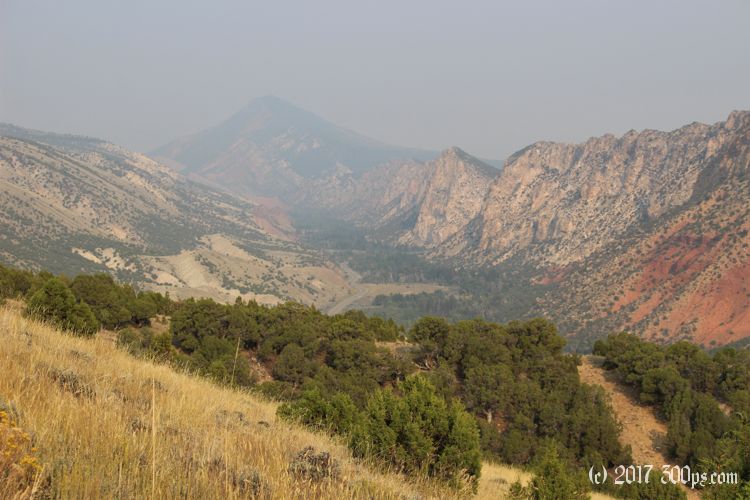 Thursday, September 7th, 2017
It was downright freezing last night. I don't know what altitude I'm at but it's got to be high.
Yesterday I called the Dinosaur National Monument visitor center to see if I could get a back-country permit. They said no problem, took my information, and told me to pick it up at the Quarry Visitor Center. The plan for the day is to get supplies in Vernal, Utah, pick up the permit, then ride up to the Jones Hole trailhead and hike in.
I pull over next to a big meadow after I've gone up the pass. Greta stalls out before I come to a stop, she doesn't like the altitude. I figure I'm over 10,000 feet here. I lost the jumper plug for the fuel injectors a long time ago... you're supposed to plug it in after 5,000 feet. Mercifully she starts right back up, just have to give it a twist of the throttle.
I pick up 3 days worth of food in Vernal. They've got my back-country permit waiting for me at the visitor center, I ask some questions but the ranger doesn't know much about Jones Hole. I'll just have to assume I can filter water from one of the creeks. The ride up to the trailhead is paved, but very roughly. At one point I bottom out the rear schock... I actually yell out "Ouch!". That's not good.