Mars to Au fin fond du Lot: Hail is painful but friends await.
---
Statistics for today
| | | |
| --- | --- | --- |
| Distance | 707 kms | 439 miles |
Statistics for trip to date
| | | |
| --- | --- | --- |
| Distance | 2,284 kms | 1,419 miles |
On this page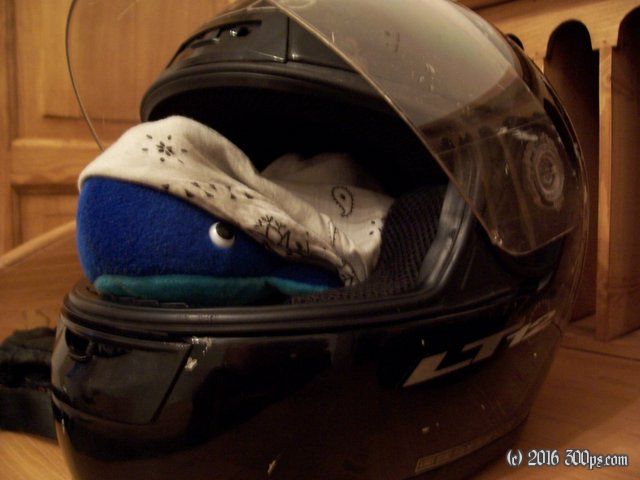 Friday, June 24th, 2005
Up early the next day, at breakfast by 7:30. Confiture d'abricots maison, talk for a while on the front terrasse then I'm off by 8:30. The western side of Ardeche isn't quite as nice as the eastern but I'm still hitting some good turns right up until noon. Somewhere outside of Le Puy en Velan I lose my right side rearview mirror. Not the first time this has happened with this fairing. There is kind of a kludgy system where the mirror is held on by a plug that goes into the plastic rearview attached to the fairing, then a clip on the other side that is supposed to keep it in place, not very effectively as it turns out. I can't find it so my mission for the day changes.
At Le Puy en Velan I stop at a Suzuki dealer to ask about BMW parts and he points me in the direction of Clermont-Ferrand. Another stop in Clermont-Ferrand at a Harley place and I'm getting warmer. A bunch of mechanics there having lunch have a ten minute debate on the best way to get to the BMW dealer. All this and I end up getting seriously lost with the directions they give me. Finally I find the place by asking a pizza delivery guy on a moped. They are closed for lunch (2.5 hour lunch break? Seems to be the norm in France). When I finally get in they don't have the part. They call around and no one on the way to Cahors has it either. Right when I leave the storms start hitting... thunder, lighting, driving rain, and the mother of all shitty motorcycle riding weather: hail. Hail hurts like hell on a motorcycle. At times I'm down to 30mph with my hazards on, I can't see anything. I even stop under a bridge for a bit which is a first for me. I'm soaked and tired but I still want to get to my friend's place. Finally make it to Cahors around 8pm, get lost, then get to the village around 9pm. Thank god I came here last year otherwise I never would have found it. Thank god as well that it stays light until around 10pm here.
Hugs and kisses all around. It feels good to be with friends tonight. I park Greta in the barn then time for dinner. Goat cheese (Rocamadour), salade maison, confit de canard. I turn in and am out like a light.