Gothenburg to Oslo, Norway: Don't fine me bro.
---
Statistics for today
| | | |
| --- | --- | --- |
| Distance | 431 kms | 268 miles |
Statistics for trip to date
| | | |
| --- | --- | --- |
| Distance | 7,148 kms | 4,442 miles |
On this page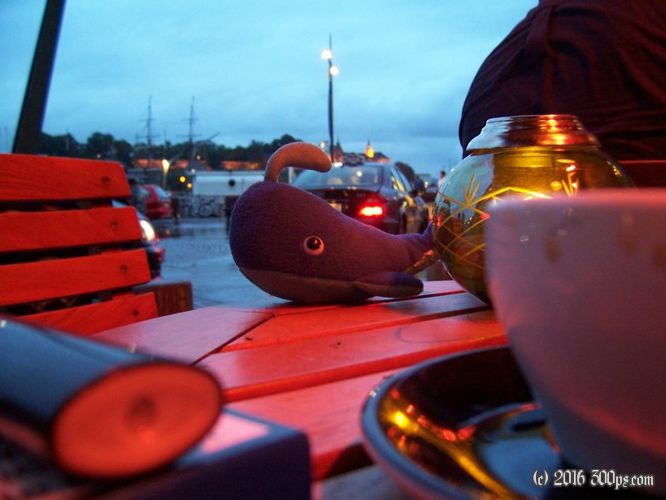 Wednesday, July 20th, 2005
Ferry at Lysekil. The rest of the road isn't too exciting, some rain once I cross into Norway. They wave me through the border crossing. Tolls are free for motorcycles. In Sarpsborg I stop to get some Norwegian money and I meet a Norwegian on a Harley. We chat for about 15 minutes about bikes and traveling. He is a truck driver and owns a house in Spain. The driving is super slow in Norway. There are automatic radar cameras all over the road so people keep strictly to the speed limit which is 80kph (50mph). The ride to Oslo is really annoying it is so slow. The cameras only take pictures of the front of the vehicles, plus I doubt they would ever catch up with me, so I smile and wave as I speed by them.
Tourism office in Oslo, they find me Ellingsens Pensionat, Holtegate, next the French embassy. Clean up, dinner with Kiki at Egon. She's Swedish, just moved to Oslo 2 months ago. At restaurants in Norway you order and pay at the bar, tell them what table you are sitting at, and they bring you your food when it is ready. Everything is ridiculously expensive. Kiki explains to me that this is because salaries are not taxed in Norway; they put all of the tax on things that you buy. Which sucks for me and everyone else who is not Norwegian since we have already paid taxes on our salaries. A very simple meal at Egon runs me 30 dollars; and it isn't very good.
July 21st
I wake up, look out the window to see it's raining cats and dogs, so I decide to stay another day in Oslo. I get a 600 kröner (95 dollar) parking ticket while at the internet cafe. Nap in the afternoon. Cafe with Kiki at night, it has stopped raining, we walk around and see the sights.