West Silverbell Road to Tucson Mountain Park:
---
Sagebrush, Saguaro, and Sweat
Map
Statistics for today
| | | |
| --- | --- | --- |
| Distance | 91.25 kms | 56.54 miles |
| Climbed | 582 meters | 1,909 feet |
| Ride time (hours) | 6.00 | - |
| Avg speed | 15.2 kph | - |
Statistics for trip to date
| | | |
| --- | --- | --- |
| Distance | 2,092.94 kms | 1,300.53 miles |
| Climbed | 14,026 meters | 46,017 feet |
| Ride time (hours) | 156.62 | - |
On this page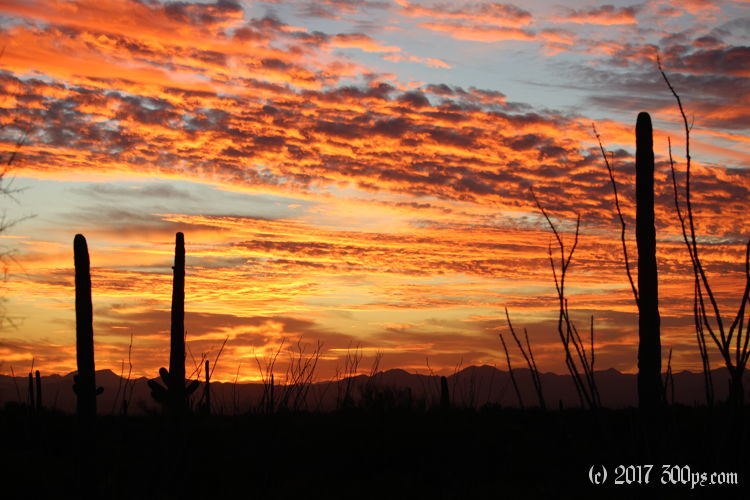 Wednesday, November 15th, 2017
Mercifully both tires are still inflated this morning. I've got a bit of a water problem though. Yesterday's heat and the effort of the ride had me drinking all night. I've only got half a liter to get me into civilization, and I'm not entirely sure how far I'll have to ride.
A few miles down W. Silverbell Road the pavement unexpectedly reappears. It's rough chipseal but my speed picks up enough to allay my fears of dehydration. It's still another 10 miles before I find a store: a gas station mini-mart that cheerfully supplies me with a couple of liters, some poptarts, and a cup of bad coffee. Out front a woman stops to ask me what I'm up to. She has a friend who has been hit by cars twice while cycling in the area. I hope that isn't an omen.
Another 10 painful miles into the wind later (the roads in this area are crap, pocked and pitted, bouncing the bike up and down every 10 feet) I reach a subdivision that has a Safeway with an embedded Starbucks. I get a breakfast burrito and a table at the coffee shop to eat it and avail myself of the free internet. I'm looking at maps, debating where to go next. I need to hit a Walmart to get supplies and tubes for the bike, this takes me 5 miles southeast, kind of out of my way but Safeway doesn't deal in bicycle accessories so I have to make the detour. I get a 5-day supply of food while I'm at it. They're all out of tube patch kits so I have to make another detour to a nearby bicycle shop. The guy there tries to sell me on Presta to Schrader adaptors... maybe I'll try them at some point but at the moment I'm not in the mood to experiment. Finally I can get out of the burbs, I head west again into the Saguaro National Park.
This road has a couple of sharp climbs, no shoulders, and a fair amount of traffic. At one point some kind of souped up jalopy coming in the other direction pulls out to pass a car. He can easily see I'm there, he just doesn't give a fuck that there isn't enough rough for two cars and a bicycle on this shoulderless road. I give him a long look at my middle finger but he stares straight ahead.
I stop at the visitor center to see what the park has to offer. There is no toll gate on the road but the signs at the center say you have to pay. I guess it's just the honor system. I've got my parks pass so no worries there. The ranger is helpful and gives me the rundown on the national park and the adjacent Tucson Mountain Park. He tells me the campground is actually a county-run affair and it's in the Tucson park, not the national one. I decide to head for it as a change in pace from rough-camping in the desert.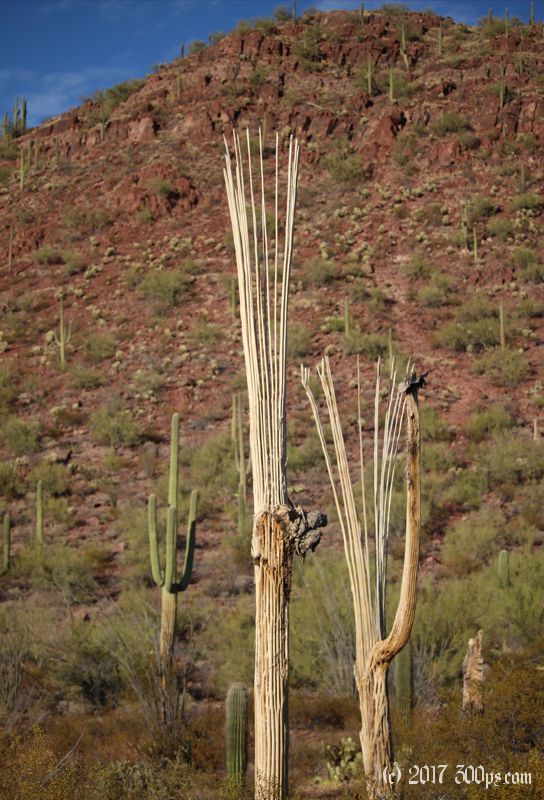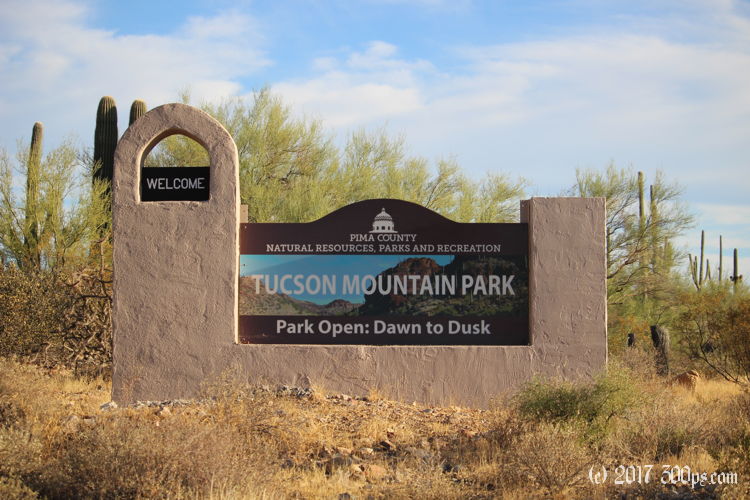 I see what I think is an old B17 Flying Fortress circling around the mountains. I ask a guy walking his dog for confirmation, he gets to telling me about the area. "It's a nice spot, why don't you take a day off." And it strikes me as a brilliant idea: tomorrow I'll ride into Tucson and stay another night in the campground. It will be nice to not have to break down camp in the morning. Another brilliant sunset to finish off the evening.