Front Royal to Big Meadows: Skylines, bear!, deer
---
Nowhere to Go but Everywhere
Map
Statistics for today
| | | |
| --- | --- | --- |
| Distance | 91.85 kms | 57.17 miles |
| Ride time (hours) | 6.71 | - |
Statistics for trip to date
| | | |
| --- | --- | --- |
| Distance | 1,443.11 kms | 896.64 miles |
| Ride time (hours) | 87.51 | - |
On this page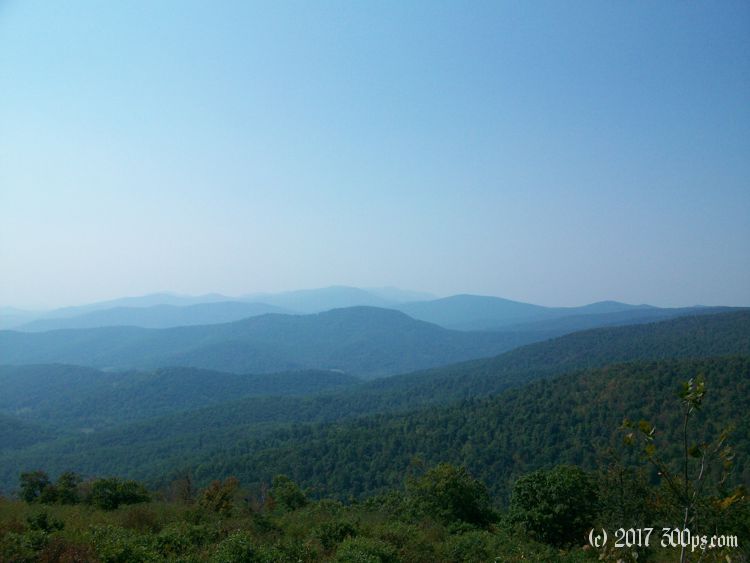 Sunday, September 12th, 2010
From yesterday's automotive hell to today's "wild"life safari on the tranquil Skyline Drive.
I loaded up at the supermarket last night so I've got plenty of stuff to supplement my stale cereal/sad American motel breakfast. On the road and I'm quickly at the entrance to Skyline Drive. It costs money to get in! I remember they charged me that time I came through here on the motorcycle but I was hoping that somehow I would skate -- being on a bicycle and all. No such luck. The first 20-odd miles has some serious climbing, up and up through the forest on a very quiet road, no trucks allowed, and a speed limit of 35mph. The climbing is tough but otherwise it's a very enjoyable ride.
Skyline Drive is a twisty beast. I remember this from my motorcycle trip; I loved the tight corners, scraping the pegs, throwing my weight left and right. I confess that I came nowhere close to adhering to the 35mph speed limit, and as a consequence I had a few close encounters with the scads of deer that are up here hiding in the national park away from the bloodthirsty hordes of Virginian hunters. On the bicycle I'm obviously going too slow to worry about deer. A curve has a surprise in store for me all the same, I round one to see... a bear! A small black bear, probably a yearling just sent off to fend for himself, sniffing at something on the road. I brake and reach for my camera... but he's too quick, he scrambles up the embankment into the trees.
Late in the afternoon I'm seeing deer all over the place. They are completely oblivious to my presence, I ride right past them as they munch stuff in the grass by the side of the road. They must be completely habituated to people at this point. I bet more than a few tourists feed them despite all of the warning signs.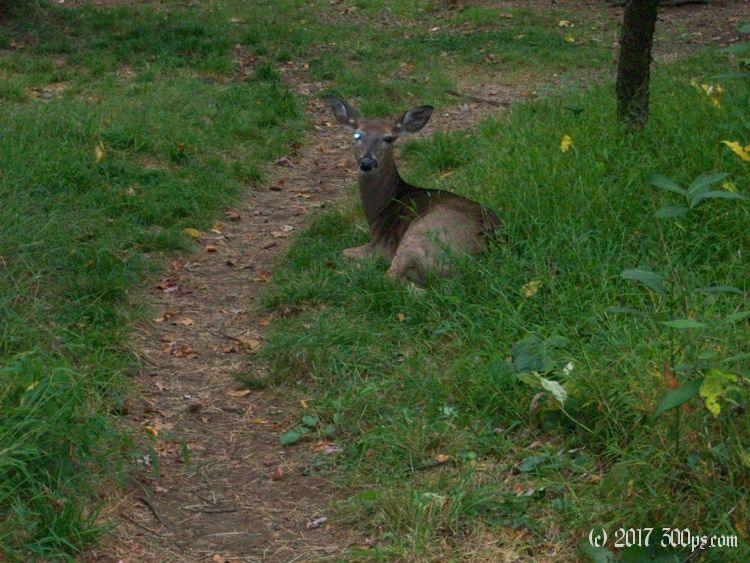 I get a site in the Big Meadows campground. $20 is not a deal for a solo cyclist. I resolve to stealth camp more often. In my assigned spot is a big ole deer lying down just munching away. I'm standing just a yard away but the thing doesn't budge.
Me: Pssssst!
Deer: Munch, munch
Me: Hey!
Deer: Munch, munch, munch
Me: I make a menacing move, yell loudly: Git!
Deer: Groan...slowly gets up and meanders off
The thing is practically a house pet at this point. My deer and its buddies wander around my campsite all night, munch-munching while I make dinner, while I write my journal, while I try to sleep.