Berlin to Seehausen: Slipping and sliding my way north
---
Statistics for today
| | | |
| --- | --- | --- |
| Distance | 130.00 kms | 80.78 miles |
Statistics for trip to date
| | | |
| --- | --- | --- |
| Distance | 130.00 kms | 80.78 miles |
On this page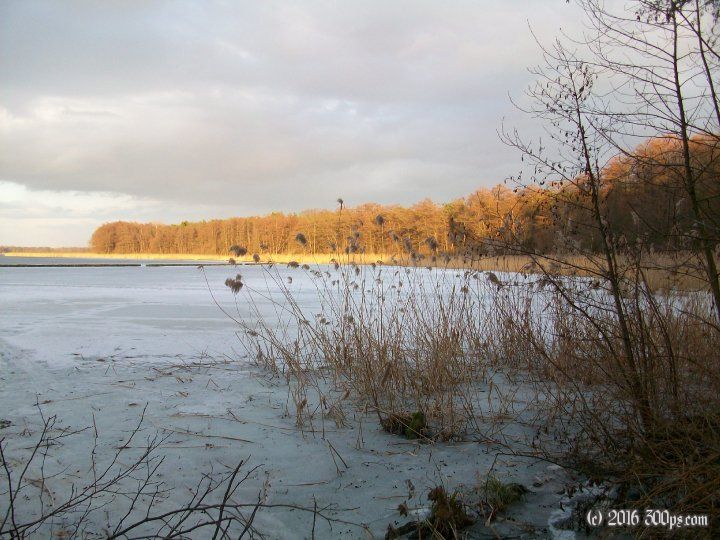 Monday, February 15th, 2010
K. lent me her bicycle. Got some bungee cords and a backpack, stuffed it with a couple of t-shirts and a change of socks and underwear then I'm good to go. I've been running on the ice around Berlin but you can only get so far on foot, I want to go farther, see what's out there beyond Bernau. The bike is just a crappy old steel hybrid with 700 by 38 street tires but somehow it grips more or less on the ice.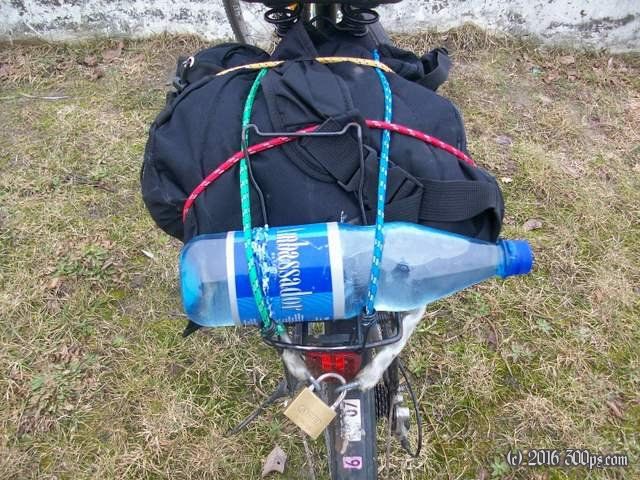 I'm motivated. The running and going to the gym just isn't wearing me out. I need to fly. I tear out of Berlin on the bikepaths going too fast for the conditions but I've got the paths all to myself, not many people out biking or walking on this ice.
Once I'm into the woods it feels even better. The cold, crisp air goes down like freezing water on a hot day. I'm sweating heavily under my parka but I'm fine as long as I keep moving, when I stop I quickly get cold from being damp. Have to remember to drink water. I'm not thirsty at all. Bernau comes and goes, Rüdnitz, Biesenthal, Werbellinsee... I'm well outside the city now, riding alongside frozen lakes.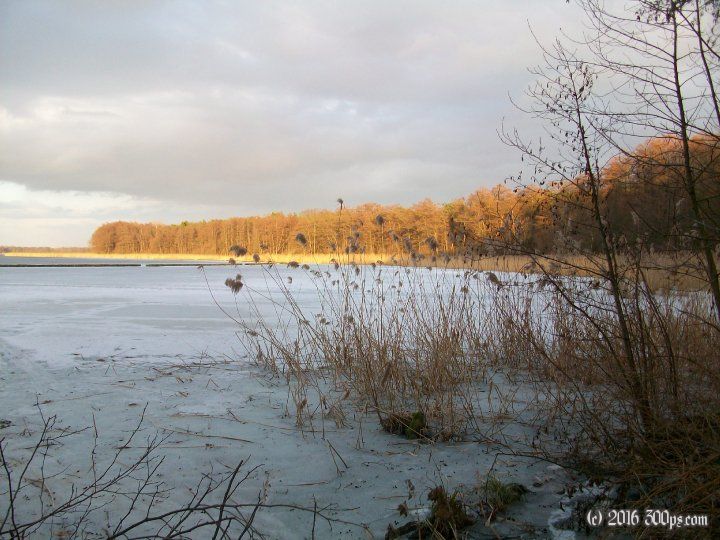 I get a mild tinge of fear now that I'm outside the city, what if the bike breaks? I know zilch about bicycles, haven't owned one since I was a kid. I tell myself it's a bit ridiculous to be afraid in a place like this. I'll just find a road and hitchhike if something happens. I'm exhilarated, I feel free, I'm pedaling fast and skidding around on the ice. I take a corner too fast, the bike slips out from under me, I crash and slide into a snowbank. I laugh. This is a blast! I haven't laughed in a while; living in this cold, dark, miserable German city where everyone walks around with nasty expressions on their faces, fucking humorless is Berlin in the winter. I'm angry... at this place, these people. I take it out on the ice. The doctor said: "What the hell are you doing in Berlin in the winter? Go to Spain. You're not made for this place". I might take him up on that.
I don't feel tired. The parka is keeping me warm but it doesn't breathe a wisker, all the sweat is running down to my jeans (good thing they are black). Who cares, people here stare anyways, no matter what you look like or what you're wearing. A Spätzle lunch filled with gooey cheese to load up on some calories. I force myself to guzzle a liter of water to make sure I'm staying hydrated. The bottle is full of ice even though it's been sloshing around tied to the back rack of the bicycle. I'm guessisng it's about -3 or -4 celcius.
The days are still quite short, by 5 it's getting dark so I stop in Seehausen at a Gästhaus that magically appears next to the bike path. Shower, big dinner at a restaurant down the street, and there ends my first day of bicycle touring. 130 kilometers is by far the most I've ever ridden a bicycle.