Bangkok to Pathum Thani: Traffic madness
---
Statistics for today
| | | |
| --- | --- | --- |
| Distance | 45.00 kms | 27.96 miles |
| Ride time (hours) | 3.20 | - |
| Avg speed | 14 kph | - |
Statistics for trip to date
| | | |
| --- | --- | --- |
| Distance | 53.10 kms | 32.93 miles |
| Ride time (hours) | 4.20 | - |
On this page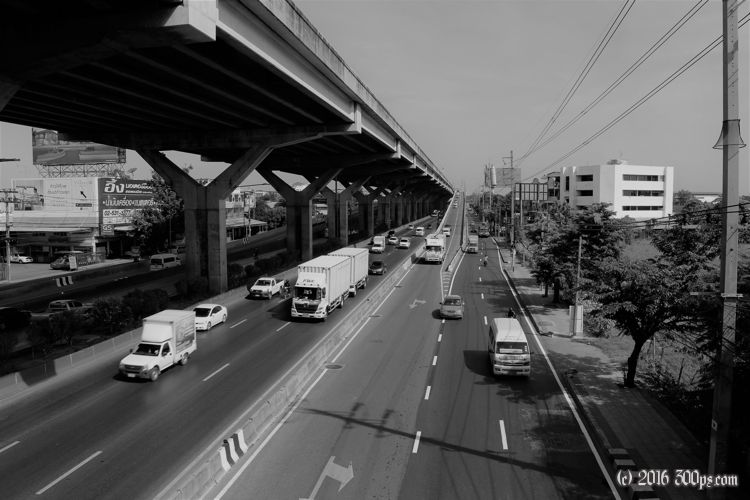 Thursday, December 1st, 2016
I suspected it would be interesting trying to get out of Bangkok; I am not disappointed. It reminds me a lot of Mexican cities: tons of traffic, scooters and motorcycles everywhere (some of them riding along the shoulder in the wrong direction), dodgy sewer grates that would swallow a bicycle, lots of puncture-potential detritus on the shoulders, confusing road signs or lack thereof, etcetera...
After a liesurely breakfast at the hotel it's time to hit the road. I navigate the traffic to get past the airport, then I'm stuck hemmed in on both sides by freeways. I have to carry the bike up and over a pedestrian bridge to break free. I'm game for 40-odd kilometers of urban death-ride before calling it a day. I'm tired and feeling somewhat dehydrated from the heat. I get a hotel in Pathum Thani next to a river. For just 20 dollars it's a really nice room with AC, fridge, TV, WiFi, the works. Even cheaper than Mexico!
Dinner of pork chops, soup, salad, and a Nutella crepe at a street stand for dessert. Not very Thai! I'm the only gringo for miles in this town, however. I'm getting lots of looks.