20 kms east of Ruta 5/Ruta 24 junction to Tocopilla: Back to the Pacific coast
---
Map
Statistics for today
| | | |
| --- | --- | --- |
| Distance | 113.48 kms | 70.21 miles |
| Climbed | 471 meters | 1,545 feet |
| Ride time (hours) | 6.93 | - |
| Avg speed | 16.3 kph | - |
| Avg climb | 2% | - |
| Max grade | 16% | - |
Statistics for trip to date
| | | |
| --- | --- | --- |
| Distance | 7,121.08 kms | 4,424.78 miles |
| Climbed | 69,029 meters | 226,473 feet |
| Ride time (hours) | 535.50 | - |
On this page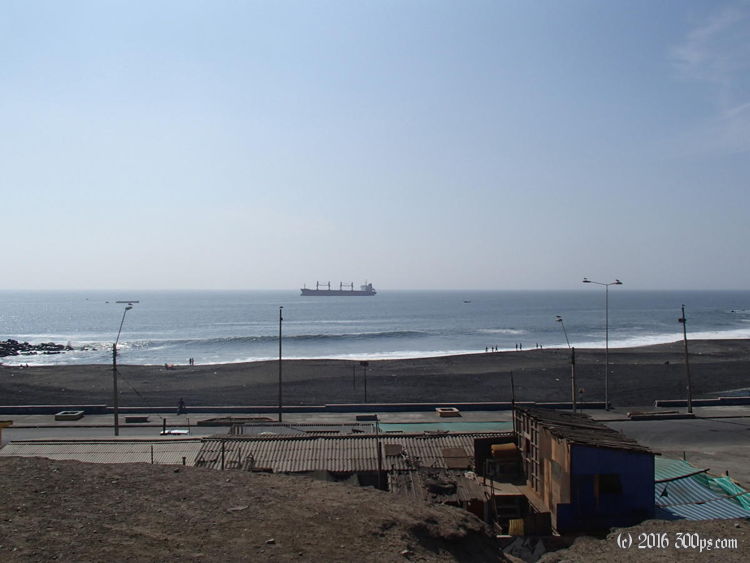 Wednesday, March 6th, 2013
I had the Magic Wind today. The Magic Wind is wind that is always in your face, no matter which direction you are heading in. After the junction of 5 and 24 there is an exit for a town called María Elena. At this point I had one liter of water left, with 60 kilometers to go to Tocopilla; as much as I wanted to keep going I knew I had to make the 15 km round-trip to this town to get more liquids. With the sun and the wind as it was I would have suffered with only 1 liter, and it didn't leave me any margin if something went wrong with the bike.
The environment surrounding María Elena is destroyed. It looks like it was a copper strip mine that is now defunct, all of the surrounding area is dug up with lots of trash lying around. The town itself appears to be mostly housing for mine workers. The houses have a barracks look to them with a level of upkeep that suggests people are living there temporarily and don't care about upkeep. An ugly place, but an ugly place that had water. I stocked up and left immediately.
I had the wind in my face on the way to María Elena and I had the wind in my face on the way back. Not sure how that happened. Heading west again on the 24 the wind was to be expected, it got stronger and stronger as I approached the coast. On the final descent into Tocopilla I was pedaling hard down 4% grades. I felt a sense of accomplishment as I rode down to the beach: back at the Pacific again after another big mountain pass.
I rode around a bit to check out what the town had, debating on whether to continue up the coast or stay here, when I ran into Sonnet and Margo, two American women from Colorado on loaded bikes waiting for a bus to Calama. We talked for a while about different routes, they wanted to do a big pass and I recommended Pircas Negras. I gave them my Mendoza and Cuyo maps that I had been holding until I ran into cyclists that needed them. As I was talking to them I got the urge to get a room to crash for the night. I haven't been in a bed since Salta so I'm due.
I got a room at the Hotel Royal (not as fancy as it sounds). The owner, Rudolfo, is quite a character. He worked for 20 years on trans-Atlantic cruise ships so he knows Boston and New York well. He said he once rode a bicycle from Sydney to Perth, and from Hong Kong to St. Petersburg, Russia, catching rides from trucks along the way when he felt like it.
I took a shower then treated myself to a sit-down dinner. This whole region has an interesting dynamic with the mines. The towns and cities are full of mine workers who live elsewhere, as far south as Los Ángeles and Constitución; they come up here to work and are staying in hospedajes, hotels, hostales, you name it. The restaurant I ate in was chock full of guys. Not a single woman. I would have expected a more raucous environment but as far as I've seen everyone is behaving themselves.
So it's up the coast towards Peru from here, I've done what I originally planned to do - the big passes between Chile and Argentina (minus Paso San Francisco, the one that got away because of my broken rack) - and I haven't really put too much thought into what comes next. It's either Peru all the way to Ecuador, or a stop in Peru then Bolivia, or Chile to Bolivia then Peru... I'm not sure about tackling Bolivia with this cheap rack and no-name wheel.