Ruta 40 Km 1556 to R.P. 44 km 13: Just like New Mexico
---
Map
Statistics for today
| | | |
| --- | --- | --- |
| Distance | 151.00 kms | 93.83 miles |
| Climbed | 323 meters | 1,060 feet |
| Ride time (hours) | 8.64 | - |
| Avg speed | 17.3 kph | - |
| Avg climb | 3% | - |
| Max grade | 16% | - |
Statistics for trip to date
| | | |
| --- | --- | --- |
| Distance | 451.00 kms | 280.24 miles |
| Climbed | 3,528 meters | 11,575 feet |
| Ride time (hours) | 35.68 | - |
On this page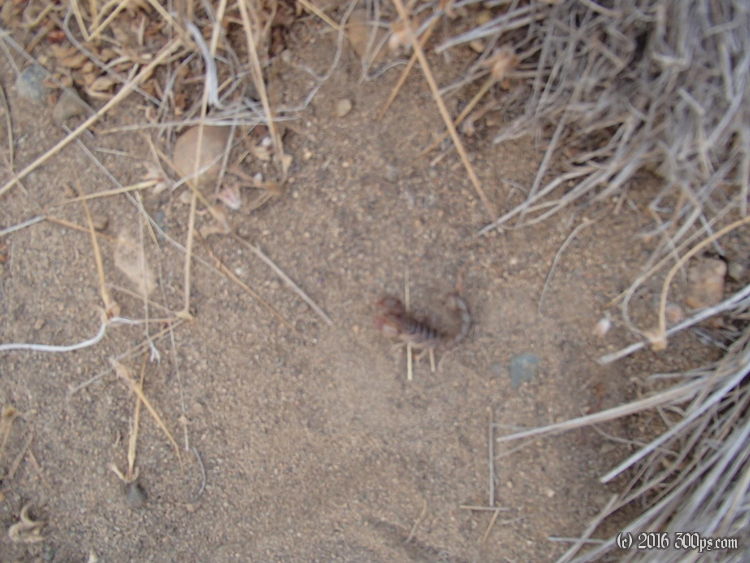 Thursday, December 13th, 2012
I was up early, around 6am, and on the road about 7:15. Found a scorpion creeping around the campsite. Water was quickly becoming a problem so I skipped breakfast. The wind must have been hungover from blowing so hard yesterday because it was pretty light this morning.
I ticked off a few places on the map heading down Ruta 40 and came across nothing that had water unless I had gone and knocked on the door of one of the estancias, which I didn't of course. I went off on a ripio road for a few kilometers to see if the river on my map had water but it was dry. When I was down to a few sips a spring-fed water hole appeared on my right, around km 1507. There were lots of animals lurking about so I didn't drink any right away. When I arrived there was a family of ostrich-like animals there but they ran off quickly before I could get a picture.
I kept going until I reached a parador (rest area) which had an abandoned gas station. I asked the sketchy looking characters hanging around the pumps if there was any water to be had but they said no, just wine... figures. I went around a stand of cypress trees and boiled the water I had gotten from the water hole, then made breakfast.
It was what seemed like an endless ride through scrub-brush desert with mountains far off in the distance on either side, exactly like New Mexico. Lots of truckers beeping and waving. The wind picked up after noon and I had it mostly at my back so I made good time. After 80 km I was low on water again so I stopped at Los Tamariscos where a woman filled up my 5 liter jug from the tap and I bought some junk food. More of the same riding all the way to the turnoff for Facunda. I knew turning off here would mean headwinds (the wind had really picked up now) and ripio but I was just desperate for a change of scenery.
There was a campground in Facunda but it was closed so I headed to the other end of town and onto the ripio R.P. 44. It was a brutal climb up out of the canyon and the rest of the road was thick sand so I struggled for about 15 kms. When the road dropped down into another canyon with a stream at the bottom I decided that this would be a good place to camp (it's hard to find any kind of cover in this landscape). Dragged the bike through the sand a good ways before I could get enough cover to not be seen from the road. Made dinner and had a shave and "shower" (first time since I left Esquel). Earlier in the day I thought I had smelled a skunk then realized it was me... I'll be in civilization tomorrow, if you can call Río Mayo that, to get some things done so I wanted to look and smell a little less ragged.
It was a long day of non-stop activity. I'm worn out, I hope to get a good night's sleep. It's sprinkling right now but it looks clearer to the west, hopefully there will be no storm.