Mendoza to Chacras Coria to Mendoza: Day off
---
Statistics for today
| | | |
| --- | --- | --- |
| Distance | 34.81 kms | 21.75 miles |
| Climbed | 188 meters | 617 feet |
| Ride time (hours) | 2.21 | - |
| Avg speed | 15.7 kph | - |
| Avg climb | 1% | - |
| Max grade | 4% | - |
Statistics for trip to date
| | | |
| --- | --- | --- |
| Distance | 3,770.44 kms | 2,342.57 miles |
| Climbed | 39,390 meters | 129,232 feet |
| Ride time (hours) | 290.03 | - |
On this page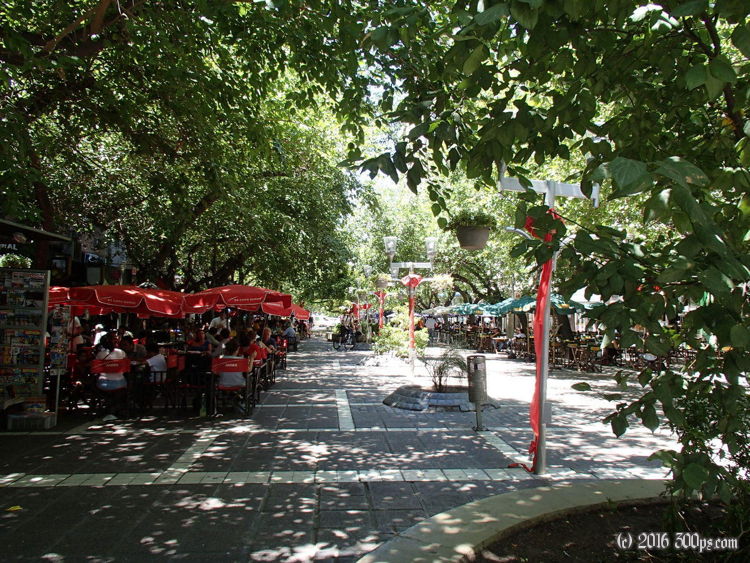 Wednesday, January 23rd, 2013
I needed to take it easy for a day, plus I had a lot of stuff to do and someone to visit, so I spent the day in Mendoza. First on the list was shopping. Found a huge Carrefour and bought too much food. I was all out of pesos so I had to go find someone who would buy some Euros at black-market exchange rates. It didn't take long, I went to a camping store to buy some gloves and I asked if they were interested. After about 10 minutes of negotiating we did a back-room deal. Kind of nerve racking doing this kind of thing but the result was worth it: Argentina is now 30% cheaper for me.
Then it was time to work on the bike and do laundry. I replaced the front break pads and trued up the back wheel which had a tiny wobble. I'm using my front breaks a lot more than the rear, probably comes from years of riding a motorcycle with ABS.
In the late afternoon I rode out to Chacras Coria to visit a friend from my Buenos Aires days. We had coffee and talked about the state of affairs in Argentina. She had an interesting story to tell regarding the foreign currency restrictions in place in Argentina: she is going to the ATP tennis tournament in Viña del Mar, Chile. She had to submit an application to AFIP (the equivalent of the IRS) along with paperwork documenting her tickets and accommodation arrangements for the right to buy Chilean pesos. If approved they would allow her to buy the equivalent of $20 per day at a very disadvantageous exchange rate. She submitted the application 10 days ago and still has not heard back. It's hard to believe that this kind of stuff goes on in an allegedly democratic country. I would like to know who is winding up with all the profit from these laws.
Take the example of a foreign credit card. Let's say Hans from Germany comes to Argentina for vacation and spends a total of 10,000 pesos on his credit card. The Argentine banks that process these transactions convert pesos to euros at the official government rate, say 6.5 pesos to the euro, for a total of 1,538 euros, which they charge back to the European bank. On the street the euro is worth 8 pesos, in large volume transactions as much as 9.3, and banks of course deal in volume... so that's 14,307 pesos, a turnaround of 40% plus. And that is just retail transactions, imagine the corporate volume. What I want to know is who is ending up with that spread. They certainly aren't selling the Euros back to Argentine citizens for 6.5, and the AFIP (i.e. the current administration) is all over this process so I highly doubt they are letting the banks take that profit. Way too tempting of a honey pot, I'm sure there are flies all over it...
We had a good visit then I rode back to Mendoza and made a huge dinner with all that food I bought. I'm currently writing this while I ignore the fact that all my gear is spread out across my room and will have to be repacked...