'Day off' in Calama: It takes a lot to keep this show on the road
---
Statistics for today
| | | |
| --- | --- | --- |
| Distance | 18.79 kms | 11.81 miles |
| Climbed | 65 meters | 213 feet |
| Ride time (hours) | 1.61 | - |
| Avg speed | 11.6 kph | - |
| Avg climb | 1% | - |
| Max grade | 4% | - |
Statistics for trip to date
| | | |
| --- | --- | --- |
| Distance | 6,930.55 kms | 4,306.72 miles |
| Climbed | 67,773 meters | 222,352 feet |
| Ride time (hours) | 523.16 | - |
On this page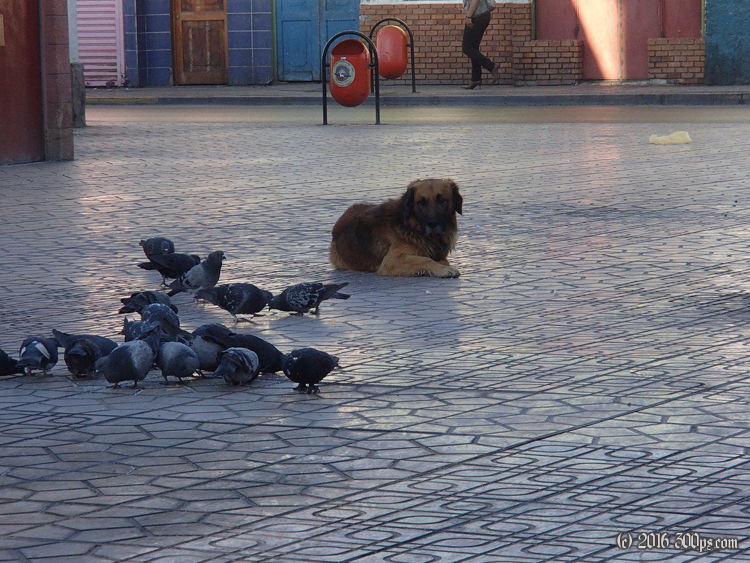 Monday, March 4th, 2013
I was up at dawn when the ubiquitous pack of stray dogs found in every Chilean city started barking up a storm over who knows what. I went out for breakfast and coffee, then starting tracking down bicycle shops. The first one had nothing in 700c, and made a point of telling me I wasn't going to find anything in Calama. Two bike shops later I found a 36 hole, double walled rim with the brand name "Bufffalo". Never heard of it... not a good sign. The built rim that was available had a hub I had never heard of either for a freewheel with no quick-release. They had a Shimano Deore hub in stock so I asked them to build me another one with the Deore. Suspiciously cheap and fast for the whole deal: rim built by hand, Deore hub, installed on the bike, all for 60 dollars. They had it done in a couple of hours. Wow. As for the quality I'll just have to see how it goes... my old rim is cracked in two places. It was going to die a horrible death at any moment. The guys at the shop told me about two Americans who had their bicycles stolen at a supermarket here last week.
While they were working on the bike I walked to Sodimac (Chile's version of Home Depot) to get white gas for the stove and a pair of pliers (mine went missing at Chilean customs on Paso Pircas Negras, along with my Gortex rain slicker...)
Then I walked back to the campground to have lunch. I wasn't going to be able to make it back to the bike shop by the time they closed for siesta so I walked to the supermarket and back. (I think I walked almost as much as I rode today). I ran into a bunch of people as I was going around town who asked me what I was doing in Calama. I even had a chat with a Gitana on the cathedral square. It seems odd to run into Gypsies in South America, I associate them with Spain and France, but it's not the first time I've seen them. I had a chat with 3 of them back in Uspallata, Argentina. I told her right from the beginning I wasn't going to give her any money but she had a go of it anyways, trying to sell me an amulet to ward off an evil force that apparently is stalking me (maybe that's what destroyed my rim, not the ripio!). At the end she was peeved that I wasn't going for it. Hey I told her at the beginning it was no deal!
I walked back to the bikeshop in the late afternoon. The wheel looks good, it's true. Back at the campground I washed my clothes by hand because I hadn't gotten it together to get my clothes to a lavanderia. The good news here is that Calama, with its wind, sun, and heat, is probably one of the optimal places on the planet to dry clothes on the line. Then I disassembled my pump. It had stopped working, it wasn't generating any friction to push out air. There was grit inside the tube which had made the o-ring on the plunger come off and fall to the bottom of the tube. I cleaned everything, put the o-ring back on, then lubed it with the cup oil from my MSR stove. Works like a charm now. Definitely don't want to be riding through the desert with a broken pump. While I had the cup oil out I also lubed the plunger on the stove. While I was working I talked to the Italian motorcyclist about traveling. It turns out he knows Richard the South African walking from Ushuaia to Mendoza. He ran into him twice: once in the town of Perrito Moreno and the other time in Chos Malal. Given that I met Richard near Bariloche this Italian guy has probably passed me a few times. Funny how just about everyone I've met who's touring South America this summer on a bike or a motorcycle has also met Richard... he's going so slow everyone catches up to him sooner or later.
Then it was time to cook dinner: black bean tacos with onion, garlic, shaved lime rind, red pepper, setas (a type of mushroom, I'm not sure what they are called in English), fresh chiles, salt, pepper, and a touch of sugar. It was delicious. It's funny how I become almost vegetarian when I tour, I just don't feel like eating meat. For protein I eat different kinds of beans, eggs, and tuna.
Technically today was a day off because I didn't travel on the bike, but man did I work hard. Not a down moment all day, it takes a lot to keep this show on the road (and I'm not done yet, I still have to wash the pots and pack...)