Narbonne to Pulversheim: Back to business.
---
Statistics for today
| | | |
| --- | --- | --- |
| Distance | 810 kms | 503 miles |
Statistics for trip to date
| | | |
| --- | --- | --- |
| Distance | 4,099 kms | 2,547 miles |
On this page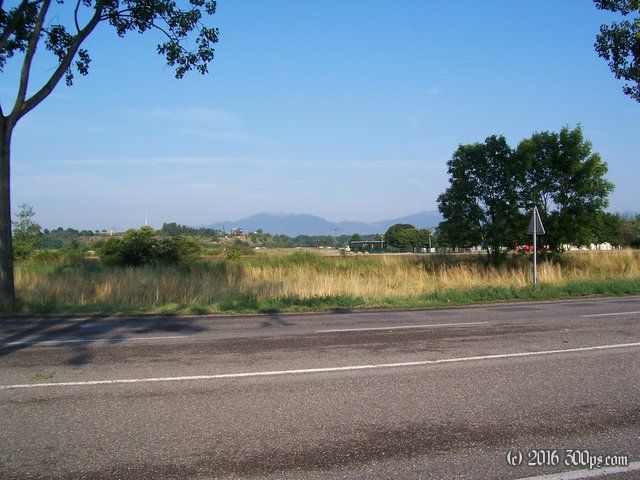 Monday, July 11th, 2005
Ok. Time to stop messing around. I've visited friends and family, now I need to make some progress if I'm going to do this continent. Plus my insurance expires in two days; best get to Germany quickly so I can renew it. I imagine (I don't really know if this is true) that I'm something of a target for the cops with my Massachusetts license plate. They can't see those very often around here. Getting pulled over in France without insurance on a U.S.-registered motorcycle can't be a situation that ends well.
Left Narbonne at 9h30. On the autoroute. Narbonne-Montpelier-Lyon-Besancon-Mulhouse. Nothing but highway and I get wacked with a couple of 15 Euro tolls. Rain outside of Besancon but it doesn't last. The cops are mounting some kind of speedtrap that nails a whole bunch of people but fortunately I escape. I'm ok with the 130kph (about 81mph) speed limit on the highways in France. For traveling all day it's a good speed, and Greta feels just right between 80 and 85. Almost run out of gas near Wittenheim. At the end of the day I get a hotel near the German border: Hotel-Restaurant Niemerich in Pulversheim. Potassium mining area in Alsace. All the town names have German names, no idea how to pronounce them in French. I use the German pronunciation and they get the idea. Garage under the hotel for Greta, chat with the concierge for a while. Dinner is cheap but kind of sad, not very inspiring.