Louisendorf to Tostedt (Hamburg): Not every recommendation from a local is a good one.
---
Statistics for today
| | | |
| --- | --- | --- |
| Distance | 641 kms | 398 miles |
Statistics for trip to date
| | | |
| --- | --- | --- |
| Distance | 5,425 kms | 3,371 miles |
On this page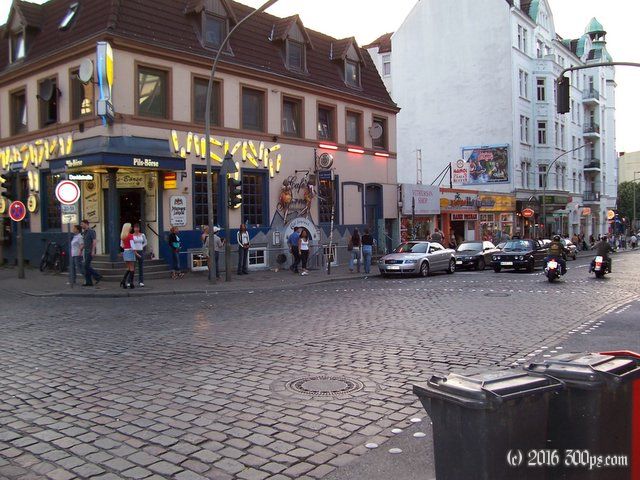 Thursday, July 14th, 2005
Up at 7h30, not much sleep. Frühstuck, exactly the same as the last place. Breakfasts in Germany are turning out to be identical. Small roads, good riding. Get on the Autobahn and make a mistake heading for Dortmund, I wanted to go north, not west. Get it right then go through Osnabruck, Bremen. Stop outside of Hamburg in a town called Tostedt (pronounced toasted), I choose it for it's name. In the hotel parking lot there is a Harley with German and Arizona plates. Stop and talk with the owners on the terrasse, they are a couple, Mathias and Sylvia. We chat for an hour about riding in the States and Germany. They've been to the US 3 times, rented motorcycles and did California, Nevada, Arizona. Europeans are fascinated with Route 66.
Out to Hamburg at night. Christoph had given me an address and said I absolutely had to go to this street but he wouldn't tell me why. So I go and walk down the street. I get attacked by hookers who are lined up in doorways the length of the street trying to get me to stay. I don't even make it half way down the street, I have to cross to the other side to get away from them. Bastard Christoph. There is a Harley convention in town, I park on Reperbahnstrasse and a bunch of people stop by asking about my license plate. Joking about Germans riding American motorcycles and me the American riding a BMW. Einfahren. Back to the hotel after 11. Greta goes in the garage with Mathias' Harley.