Khao Kho to Phitsanulok: rain
---
Map
Statistics for today
| | | |
| --- | --- | --- |
| Distance | 99.30 kms | 61.52 miles |
| Ride time (hours) | 4.98 | - |
| Avg speed | 19.9 kph | - |
Statistics for trip to date
| | | |
| --- | --- | --- |
| Distance | 2,876.60 kms | 1,787.68 miles |
| Ride time (hours) | 151.43 | - |
On this page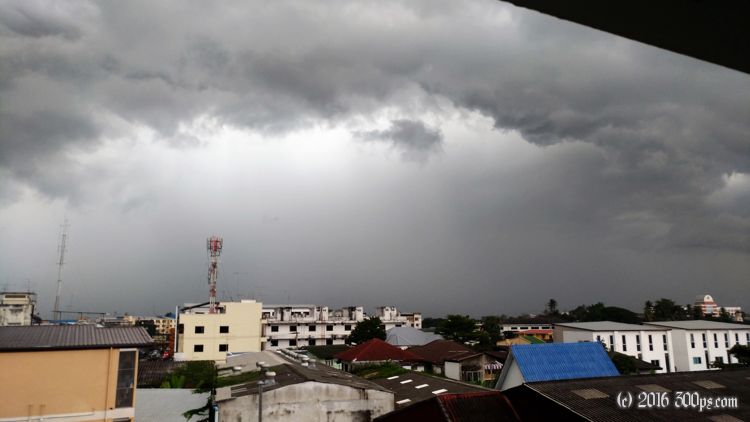 Tuesday, January 10th, 2017
I open the door of my room to very gloomy skies and puddles in front of the door. I get that sinking feeling that it's going to be a long, wet day in the saddle.
The rain takes its time developing though. I ride until I find a place for breakfast with only the occasional sprinkle. It isn't until noon that I get caught out in a full-on, tropical downpour. When it hits there is no cover in sight so I'm completely soaked by the time I reach a bus stop 15 minutes later. The shelter is packed with scooter riders waiting it out like me.
The heat returns quickly after the showers move on, drying me out somewhat before I get to Phitsanulok. It's a fairly big city. I book a place in the center that has decent, if somewhat faded, rooms and breakfast included. A street market right outside the hotel provides dinner.
I wake up the following day feeling pretty tired so I pay for another night.
384 meters of climbing according to Strava.